WorldVentures DreamTrips Vacation Club Wins WorldTravel Awards
October 16, 2014
By Nicole Dunkley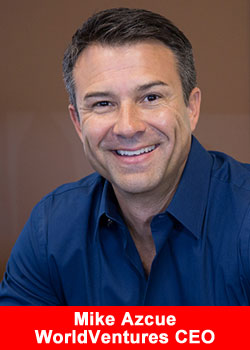 Worldventures, DreamTrips Vacation Club, one of the world's leading travel and vacation club membership organizations, was named "Africa's Leading Travel Club" for 2014.
DreamTrips was recognized as part of the World Travel Awards (WTA)—the second WTA regional award for the travel club this year. WTA acknowledges and celebrates excellence across all sectors of the global tourism industry. The World Travel Awards Africa & Indian Ocean Gala Ceremony was held at Transcorp Hilton Abuja, Nigeria with hundreds of tourism professionals in attendance.
The award acknowledges DreamTrips exceptional travel club excellence in the Africa and Indian Ocean regions over the past year. DreamTrips were identified for exceptional services product offerings and went up against other nominees, including Four Seasons Hotels, Hilton, Kenya Airways and Royal Air Maroc.
"We are grateful to be recognized as Africa's best travel club a month after DreamTrips was named Europe's Leading Travel Club," WorldVentures Co-Founder and CEO Mike Azcue said. "Together with Rovia, our travel agency partner, the team composes unforgettable travel experiences, which include a unique product offering and exceptional customer service for our worldwide membership. This is a warm handshake from the tourism industry's leadership."
DreamTrips delivers high-quality, uniquely curated travel and vacation experiences to its vacation club members. As a result, DreamTrips was also named "World's Leading Travel Club" at the 2013 WTA Grand Finals.
About WorldVentures:
WorldVentures is the leading international direct seller of vacation club memberships. WorldVentures is on a mission to help people achieve more fun, freedom and fulfillment in their lives, and to provide its members with premium vacations at reduced prices.
WorldVentures combines the power of the Internet with the strength of the direct-selling industry to market its DreamTrips Memberships. WorldVentures is a privately held company based in Plano, Texas, with active Representatives and members in 28+ markets.