4Life CEO Attends WFDSA World Congress
November 20, 2014
By Nicole Dunkley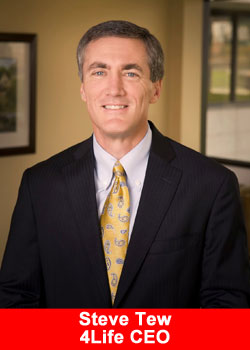 4Life Research President and CEO Steve Tew recently returned from Rio de Janiro, Brazil, where he participated in the World Federation of Direct Selling Associations (WFDSA) World Congress XIV.
The WFDSA is a non-governmental organization that represents the direct-selling industry as a federation of national Direct Selling Associations. Membership consists of 58 national Direct Selling Associations and one regional federation, the Federation of European Direct Selling Associations. Tew is among a handful of industry CEOs who sit on the WFDSA CEO Council.
In the United States, the DSA's (Direct Selling Association) mission is to protect, serve, and promote the effectiveness of direct selling companies and the independent business people they represent.
Tew: "The DSA mission is a commitment that 4Life pledges to uphold on behalf of independent distributors wherever they conduct business, which is why 4Life is a good-standing member of more than a dozen Direct Selling Associations around the world.
In 2014, 4Life was granted DSA membership in Brazil (ABEVD) and Italy (Avedisco).
4Life has offices on five continents to serve a global network of independent distributors through science, success, and service.