ACN President And Co-Founder Ranked Top 20 Telecom Executive
November 7, 2014
By Nicole Dunkley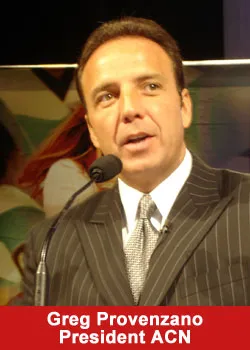 ACN's President and Co-Founder Greg Provenzano was ranked the number three telecom executive to work for in 2014 by getvoip.com. In their annual ranking, they looked at the top 20 executives making the big decisions in the telecommunications industry and ranked them by what really matters – how their employees feel about their leadership.
He has a deep commitment to personal growth, and he inspires others to work on their personal lives as hard as they work on their businesses. Greg is a leader and motivator to ACN's independent business owners.
He shares the company's vision with them, as well as ways to improve their businesses and their lives. Greg communicates with independent business owners daily, encouraging them and helping them stay focused on their goals.
Using up-to-the-minute ranking tool, Greg Provenzano came in number 3 with an incredible 97% approval rating. ACN employees were quoted as saying, "ACN's culture at the corporate office is excellent. There seem to be many opportunities for growing a career here, and everyone is more than willing to help you learn. The company values personal growth at all levels."
About ACN Inc.
Founded in 1993, ACN is the world's largest direct seller of telecommunications, energy, and other essential services for residential and business customers. ACN provides the services people need and use every day including Phone Service, Wireless, Energy, Merchant Services, Television, Home Security and Automation and High Speed Internet. ACN operates in 24 countries with offices located throughout North America, Latin America, Europe, Asia and the Pacific.