Amber Voight – Younique Hits $60,000 Per Month
November 24, 2014
By Team Business For Home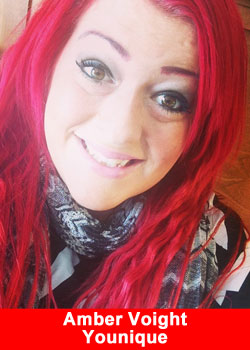 Amber Voight lives in Elk River, Minnosota, USA and has hit the $60,000 * per month mark with 25,000 team members in 5 countries as of October 2014.
Amber Voight is a Black presenter, a top rank in the Younique compensation plan.
She is a mom of 3 amazing little guys and wife to David, the most supportive husband ever.
Amber has been in network marketing/direct sales since she was 17 years old so about 11 years.
Younique, a cosmetics direct sales company dedicated to uplifting, empowering and validating women everywhere, received the Direct Selling Management Association's (DSMA) "Growth" award in a ceremony held November 6, 2014. Younique October sales topped $35 million.
Younique's year-over-year sales growth of 5,145% (from October 2013 to October 2014) was enough to secure the honors.
Younique is the first direct-sales company to market and sell cosmetics almost exclusively through the use of social media. Younique Virtual Parties bridge the huge world of social media and the traditional home-party business model.
Younique's mission is to uplift, empower, validate, and ultimately build self-esteem in women around the world through high-quality products that encourage both inner and outer beauty and spiritual enlightenment while also providing opportunities for personal growth and financial reward.
*Disclaimer:
The earnings portrayed in this article are not necessarily representative of the income, if any, that a Younique Representer can or will earn through his or her participation in the Younique Compensation Plan. These figures should not be considered as guarantees or projections of your actual earnings or profits.Any representation or guarantee of earnings would be misleading.
Success with Younique results only from successful sales efforts, which requires hard work, diligence and leadership. Your success will depend on how effectively you exercise these qualities.