Avon Products' Rating Cut To Junk By S&P
November 5, 2014
By Tina Williams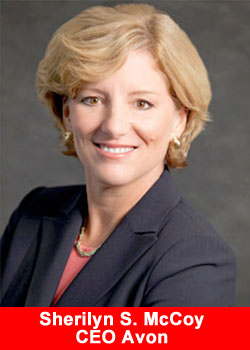 Standard & Poor's Ratings Services on Monday cut beauty products direct seller Avon Products Inc. corporate rating to junk, citing the company's slower-than-expected progress to improve business and weak results, particularly in the U.S. and Brazil.
"Some of the company's issues are deeper than we anticipated," S&P said, cutting Avon's corporate rating to double-B-plus, one notch below investment grade. While the company has a good geographic diversity, the rating agency said, "it will take time to re-engage its active representatives and rebuild sales growth."
S&P, however, kept the company's outlook at stable, signaling an expected improvement.
Founded in 1886 by David H. McConnell, a traveling book salesman, Avon became known for a growing sales force of women—the Avon Ladies—and its trademark "Avon calling!" But the New York-based company has been struggling to grow sales and attract and retain sales representatives.
Avon, which in July reported another quarter of disappointing sales and lower profits but said its U.K. market had reported the first quarter of sales growth since 2010, is the midst of a multiyear restructuring plan that the company is hoping will result in $400 million in savings.
About Avon
Everyday, Avon brings beauty to the lives of women all over the world. At Avon, beauty means finding the right lipstick shade for a customer; providing an earnings opportunity so a woman can support her family; and enabling a woman to get her first mammogram. Beauty is about women looking and feeling their best. It's about championing economic empowerment and improving the lives of women around the world.
Avon is a company steeped in tradition, grounded by its core values and principles as well as its vision to be the company that best understands and satisfies the product, service and self-fulfillment needs of women – globally.
A leading global beauty company and one of the world's largest direct sellers, Avon has $10 billion in annual revenue.Its product line includes beauty, fashion and home products, with such well-recognized brand names as Avon Color, ANEW, Skin-So-Soft, Advance Techniques,Avon Naturals and mark.