Avon Reports 3rd Quarter Financial Results, Profit Of $91.4 Million
November 1, 2014
By Tina Williams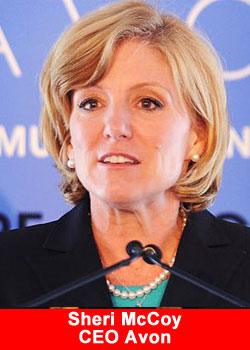 Avon Products Inc. (AVP) on Thursday reported third-quarter profit of $91.4 million.
On a per-share basis, the New York, New York-based company said it had profit of 21 cents. Earnings, adjusted for non-recurring costs and restructuring costs, were 23 cents per share.
The results topped Wall Street expectations. The average estimate of analysts surveyed by Zacks Investment Research was for earnings of 16 cents per share.
The direct seller of cosmetics posted revenue of $2.14 billion in the period, falling short of Street forecasts. Analysts expected $2.15 billion, according to Zacks.
Avon shares have declined 36 percent since the beginning of the year, while the Standard & Poor's 500 index has climbed 7 percent. The stock has declined 51 percent in the last 12 months.
Everyday, Avon brings beauty to the lives of women all over the world. At Avon, beauty means finding the right lipstick shade for a customer; providing an earnings opportunity so a woman can support her family; and enabling a woman to get her first mammogram. Beauty is about women looking and feeling their best. It's about championing economic empowerment and improving the lives of women around the world.
Avon is a company steeped in tradition, grounded by its core values and principles as well as its vision to be the company that best understands and satisfies the product, service and self-fulfillment needs of women – globally.
A leading global beauty company and one of the world's largest direct sellers, Avon has $10 billion in annual revenue. Its product line includes beauty, fashion and home products, with such well-recognized brand names as Avon Color, ANEW, Skin-So-Soft, Advance Techniques,Avon Naturals and mark.