Creative Memories Under New Ownership, Hoping To Rebuild Company
November 30, 2014
By Tina Williams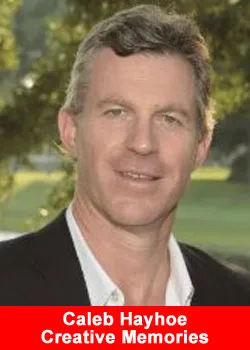 The remnants of an embattled St. Cloud-based scrapbooking company have been reassembled and launched again under new ownership.
CM Group Holdings Inc., reopened offering of the Creative Memories and Ahni & Zoe brands of scrapbooking and memory keeping materials last week in a soft launch to former consultants.
Caleb Hayhoe, chairman of Flowerdale Group Ltd., is the new owner of the Creative Memories and Ahni & Zoe brands, patents, artwork, products and manufacturing equipment in North America. He also is owner of Creative Memories operations in Japan.
Hayhoe said he is delighted to be a part of the rebirth of Creative Memories with the talented teams in St. Cloud, Tokyo and Hong Kong. He said the response to the new offerings has been enthusiastic, and the new facility at 640-60th St. S in St. Cloud is operational.
Mark Lerud, Ahni & Zoe's vice president of operations, has taken over as president of CM Group Holdings. He's one of about 20 employees working with the new company in St. Cloud. Many of them previously worked for Creative Memories and Ahni & Zoe.
The new building is just around the corner from where much of the former Creative Memories property was offered in a two-day auction in September at 6401 Eighth Ave. S, the 316,000-square-foot former Creative Memories building. It remains on the market for a new tenant.
The building we're in now used to be home to Menasha Packaging and Aubright, formerly Goldleaf Plastics, is right next door, Lerud said. Aubright purchased the building and we're leasing a portion of the space. It's about 31,000 square feet, which fits us quite nicely.
Under previous ownership, Creative Memories went through two bankruptcies in a five-year period. After the second, the company emerged a year ago as Ahni & Zoe. It continued to operate until August, when it closed its direct selling business in the United States and Canada. When that happened, a company that once employed more than 1,100 people and had 70,000 consultants worldwide ceased to exist. By the end, staffing had fallen well below 100 employees.
The good thing is we're unencumbered by any of those past issues, Lerud said. It's tricky because we're still using the Creative Memories name, which has value and was big among the assets (Hayhoe) bought. People know what it is and the products are of good quality. Some of the people impacted by the difficulties in the past might confuse us, but we're free to make our own way as a new business.
Lerud said the number of items available is similar to what Ahni & Zoe was offering, but CM Group Holdings has brought back a classic line of Creative Memories materials including bookcloth albums.
We've tried to keep the best tools in our tool box, Lerud said.
Originally reported by sctimes