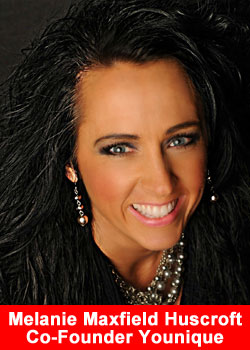 DSMA Honors Younique with "Growth" Award – $35 Million In October
November 15, 2014
Younique, a cosmetics direct sales company dedicated to uplifting, empowering and validating women everywhere, received the Direct Selling Management Association's (DSMA) "Growth" award in a ceremony held November 6, 2014. Younique October sales topped $35 million.
Younique's year-over-year sales growth of 5,145% (from October 2013 to October 2014) was enough to secure the honors.
Younique cofounder Melanie Huscroft received the award and expressed her gratitude to the DSMA and to Younique Presenters around the world who are making this all possible.
"It's beyond words for me to express how happy I am to see this company's mission expand its reach. And, to me, that's exactly what this Growth award means; our collective success is helping spread our mission to uplift, empower and validate women."
The "Growth" award is one of six awards that the DSMA of Utah evaluates and awards to deserving companies. The Utah DSMA was founded in 2005 to create and maintain collaboration among Utah-based, direct selling companies, and related businesses and organizations.
Another indicator that Younique is on a path to meaningful growth was its reaching and surpassing the significant 100,000 Presenter (independent sales representative) milestone. Visitors to the website can view the live Presenter tracker (scroll to bottom of page) to see how many new Presenters have joined the Younique family since the 100,000 milestone was achieved on September 29.
About Younique
Younique Products is the first direct sales company to market and sell almost exclusively through the use of social media. Since its inception in September 2012, Younique has earned increasing recognition for its bestselling product the original Moodstruck 3D Fiber Lashes. The company's product philosophy of Nature. Love.
Science. ensures that its line of cosmetics and skin care products are always found at the intersection of the best that science and nature has to offer. Founded by a brother-sister team -Derek Maxfield and Melanie Huscroft- Younique's mission is to Uplift, Empower and Validate women. Younique is open in the following markets: United States, Canada, Australia, New Zealand and the United Kingdom. Discover more at: www.youniqueproducts.com
Get more information, facts and figures about Younique, click here for the Younique overview.