ForeverGreen Announces Q3 Results – Revenue Up 231%
November 17, 2014
By Nicole Dunkley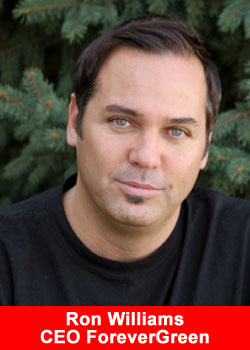 ForeverGreen Worldwide Corporation, a leading direct marketing company and provider of health-centered products, announced Q3 2014 earnings. The quarter ended September 30, 2014.
Recent Company Highlights:
New leaders, distributors and customers added at record pace during Q3 2014

Company achieved sixth consecutive quarter of operating profitability and fifth consecutive quarter of net profitability

Sales increased each quarter for the last 6 quarters

Company actively shipped product in 175 countries, up from just 18 at the end of 2012

Company added new products, BeautyStrips and Retromé, to product portfolio

Company met or exceeded monthly targets necessary to remain on target for the increased company guidance of $56-60 million of revenue during 2014
Highlights for Q3 2014:
Sales increased to $15,880,244 from $4,793,782 for Q3 2013, a 231% increase

Gross profit rose to $12,499,786 compared to $3,665,285 during Q3 2013, a 241% increase

Gross profit margins increased to 78.7% versus 76.5% during the comparable quarter during 2013

Operating income was $317,263 compared to $301,619

Net income totaled $203,343 or $0.01 EPS versus a net income of $326,929, which included a one-time gain of $226,230

Excluding non-recurring costs, net income totaled $203,343 versus $100,699 during Q3 2013

Interest expense decreased to $113,101 or 0.7% of sales compared to $195,656 or 4.1% of sales during Q3 2013

Total Long Term Debt reduced to $1,499,234 from $2,046,037 on September 30, 2014
Highlights for nine months, ending September 30, 2014, included:
Sales increased to $40,544,486 versus $11,495,871, a 253% increase

Gross profit rose to $31,710,515 from $8,372,805 a 279% increase

Gross profit margins increased to 78.2% compared to 72.8% for the first nine months of 2013

Operating income increased to $996,624 versus an operating income of $298,580 during the first three quarters of 2013

Net income totaled $839,250 or $0.04 EPS as compared to a net income $110,090 or $0.01 EPS during the first nine months of 2013

Interest expense decreased to $258,359 compared to $405,030 during the comparable period in 2013

Total assets increased to $6,698,154 from $2,699,519 on December 31, 2013

Long term debt decreased to $1,499,234 from $1,909,156

Total liabilities increased nominally to $7,165,662 from $6,301,037 on December 31, 2013
"We continue to see our gross margins approaching 80 percent and expect to top this number in the coming quarters with economies of scale, logistical improvements and product mix. Over the last several quarters, the company has concentrated on growth and the things necessary to do this effectively. This includes higher inventories, quality management and leadership, IT improvements as well as customer and member marketing and education. As we move into 2015, our concentration will be on the growth of our scalable business model without the growth of many of the corresponding fixed costs. We anticipate significantly higher levels of profitability as many of our expenses associated with the large scale growth we have seen in 2014 will diminish as a percentage of sales," said Jack Eldridge, CFO of ForeverGreen.
Mr. Eldridge added, "We experienced a 231% increase in year over year sales and continue to remain on track to hit our 2014 guidance of $56-60 million for the year. The company will focus on streamlining its operations as it continues to grow. We believe during the next 9-12 months our operating margins will improve to 7-9%, and our net margins will increase to 5-8% as we continue to benefit from overall efficiencies and lower COGS. Several non-recurring costs will be reduced as we move into 2015. Currently under $1.5 million, our debt levels continue to decrease, and ForeverGreen currently has enough tangible assets, $6.5 million, to cover all of its current liabilities. We have improved the company's financial health substantially over the last year. We have achieved several of our 2014 goals already, including the introduction of new products and product sales in dozens of new countries. We are pleased that we have been able to stay profitable while remaining one of the fastest growing companies in our industry and one of the fastest growing public companies period. We will continue to develop ForeverGreen into one of the largest and most diversified global companies in our industry. Due to the international business travel of our management team, we hope to hold a call with shareholders in the next few weeks."
About ForeverGreen
ForeverGreen Worldwide Corporation develops, manufactures and distributes an expansive line of all natural whole foods and products to North America, Australia, Europe, Asia and South America, including their new global offerings, PowerStrips and SolarStrips. They also offer Azul and FrequenSea whole-food beverages with industry exclusive Marine Phytoplankton, the Versativa line of hemp-based whole-food products, immune support and weight management products, Pulse-8 powdered L-arginine formula, TRUessence Essential Oils and Apothecary, 24Karat Chocolate and an entire catalog of meals, snacks, household cleaners and personal care products.