Global 1 Entertainment, G1E Fantasy Sports Platform Experiencing Rapid Growth
November 13, 2014
By Nicole Dunkley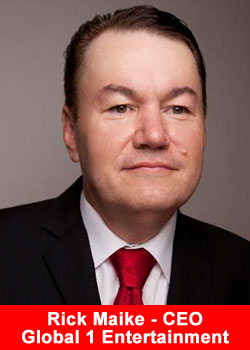 Global 1 Entertainment or G1E announced this week that their Fantasy Sports website – G1E Fantasy Sports — launched at the beginning of the NFL football season in September and has seen customer acquisition grow immensely.
"Our goal was to give our network IBO's an exciting platform to attract new customers and distributors," said Rick Maike, President and CEO of Global 1 Entertainment. "The numbers have been increasing weekly. I knew we would have interested people in playing Fantasy Football, but never did we envision how many new customers would participate in G1E Fantasy Sports in such a short period of time."
Doyce Barnes, Vice President of Marketing for Global 1 Entertainment agreed with the unexpected rise in the number of players. "We simply wanted to provide something fun and entertaining so that out team members could capitalize on being 'First to Market'. We have done that and much more."
G1E Fantasy Sports is part of an estimated $15 Billion market that is exploding worldwide. Global 1 Entertainment is the first network marketing company to offer fantasy sports to its members and customers.
Each week G1E Independent Business Owners (IBO's) can play Fantasy sports themselves while also bringing in unlimited numbers of customers to play and win cash prizes.
Each time someone plays a Fantasy game, 40% of their entry fee becomes Business Volume (BV) for the G1E member, giving the Global 1 Entertainment representative a chance to earn commissions on the playing.
"We have IBO's who are making thousands of dollars per week who don't even play themselves." said Barnes. "That means G1E members have plenty of customers playing within their organizations."
One of the most popular games is G1E 5000. A $25 entry fee could win you $2,500 for the top prize. The total jackpot is $5,000 so the remaining $2,500 is shared by 49 other winners.
"The bottom line is people like to have fun and G1E Fantasy Sports creates great volume for our IBO's, says Barnes. "That means our IBO's get paid commissions every time someone plays. People are seeing the value of the opportunity and are joining in great numbers."
Rick Maike and Doyce Barnes say other games are scheduled for G1E Fantasy Sports: National Basketball Association; European Soccer; NASCAR and the National Hockey League.
"We intend to be the industry leader in not only Fantasy Sports but other entertainment and games as well," Maike proclaimed.
Barnes added: "In any economy, whether it is up or down, people will always spend money on their hobbies and things they enjoy. Entertainment and games fit into this perfectly and as the 'first to Market' G1E fits this statement perfectly too."
ABOUT GLOBAL 1 ENTERTAINMENT
A worldwide leader in social media, gaming, audio-video communications and entertainment products, G1E helps connect people globally utilizing state of the art Social media and video platforms, allowing them to communicate, have fun and stay connected, all while building the business of their dreams. G1E's products are marketed socially around the world with IBO's currently in 128 countries.
G1E was founded in 2013 by Rick Maike, Angela Leonard and Doyce Barnes. The three have a combined 70 years in the direct selling world as successful distributors and company owners. Together they understand the needs of the field because they have been there themselves, but they also understand what it takes to run a successful network marketing company having done it twice before. They are among the few people in the Network Marketing industry that have started, built and run 3 successful MLM companies (as owners) that are all still in business today.