Herbalife Announces New Appointments In Corporate Affairs And Investor Relations
November 20, 2014
By Tina Williams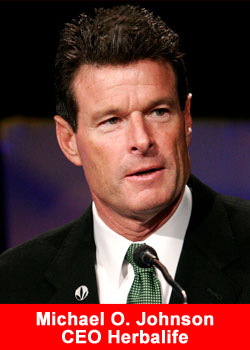 Global nutrition company, Herbalife (NYSE: HLF), today announced the appointment of Amy Greene to the newly created role of senior vice president, global engagement, reporting to Alan Hoffman, executive vice president, global corporate affairs.
In this role, Greene will work closely with community leaders, non-government organizations (NGOs), industry groups, think tanks and other key influencers to educate them about Herbalife and the important role the company plays in society.
Greene, who has been with Herbalife since 2009, was formerly responsible for all investment community communications, including institutional marketing and interaction. In addition, she had responsibility for the company's engagement with the NGO community in the U.S.
"This is a key role as we continue to inform and educate the public about how Herbalife is helping people everywhere to improve their lives through our nutrition products and the opportunity we offer for supplemental income," said Hoffman. "Amy's knowledge of our business and experience in fostering relationships within multiple constituencies will be invaluable, and I am delighted Amy has agreed to lead our efforts in this important area."
"Herbalife has a great story to tell," said Greene. "I have seen first-hand the positive impact the company has on individuals and entire communities, and I am excited to be working alongside our members with community and industry leaders to see how, together, we can make that impact even greater in the future."
As a result of this change, Herbalife also announces the appointment of Alan Quan to the role of vice president, investor relations, reporting to John DeSimone, chief financial officer. Quan joined Herbalife in 2007 and has held a number of roles, most recently as vice president of business optimization and real estate, leading the implementation of the company's program of enhancements, referred to as the Build it Better initiative. Prior to Herbalife, Quan worked at American Express in the business transformation team, joining them after completing his MBA at Cornell University.
"Amy has done an incredible job in creating a responsive and shareholder-focused investor relations function. I thank her for all her efforts and know she will work closely with Alan to ensure a seamless transition," said DeSimone. "Alan brings to the role a broad knowledge of our business and has been key in leading the successful execution of our Build it Better initiative. I am confident that he will quickly become an extremely valuable partner to our investor community."
About Herbalife Ltd.
Herbalife is a global nutrition company that has been changing people's lives with great products since 1980. Our nutrition, weight-management, energy and sports and personal care products are available exclusively to and through dedicated Independent Herbalife Members in more than 90 countries. We are committed to fighting the worldwide problems of poor nutrition and excess weight by offering high-quality products, one-on-one coaching with an Herbalife Member and a community that inspires customers to live a healthy, active life.
The company has over 7,400 employees worldwide, and reported net sales of $4.8 billion in 2013.