Herbalife Chairman And CEO Increases His Personal Share Holding In The Company
November 26, 2014
By Tina Williams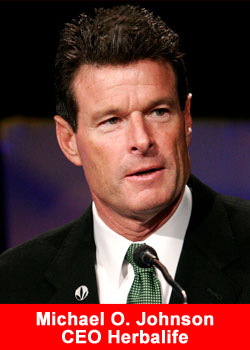 Global nutrition company, Herbalife (NYSE: HLF), today announced that Michael Johnson, Herbalife's chairman and CEO, has engaged in a net exercise transaction involving 750,000 stock options that were granted to him in December 2004 and were due to expire in December 2014.
Because of his complete confidence in the continued and future success of the company, Mr. Johnson has decided that he will hold all the shares issued on exercise of the option, which will be the total amount, net of those necessary to cover the exercise price and any taxes related to the transaction.
About Herbalife Ltd.
Herbalife is a global nutrition company that has been changing people's lives with great products since 1980. Our nutrition, weight-management, energy and sports and personal care products are available exclusively to and through dedicated Independent Herbalife Members in more than 90 countries.
We are committed to fighting the worldwide problems of poor nutrition and excess weight by offering high-quality products, one-on-one coaching with an Herbalife Member and a community that inspires customers to live a healthy, active life.
We support the Herbalife Family Foundation (HFF) and its Casa Herbalife Program to help bring good nutrition to children in need. We also sponsor more than 250 world-class athletes, teams and events around the globe, including Cristiano Ronaldo, the LA Galaxy and champions in many other sports.
The company has over 7,400 employees worldwide, and reported net sales of $4.8 billion in 2013.