Herbalife Director Is Being Charged In Brazilian Embezzlement Case
November 14, 2014
By Tina Williams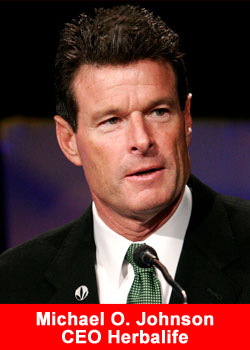 A director of U.S. nutrition company Herbalife is among 12 people charged in a years-old Brazilian embezzlement case that has never been mentioned in Herbalife public disclosures, according to court documents and company filings.
Herbalife has become one of America's most closely-watched companies after billionaire investors William Ackman and Carl Icahn squared off with enormous bets on its future, with Ackman betting on its demise and Icahn on its success.
Prosecutors in Brazil charged current Herbalife board member Pedro Cardoso with money laundering in 2008 for allegedly participating in an embezzlement scheme a decade earlier that siphoned 26.7 million Brazilian reais ($10.4 million) from the state government in Espirito Santo.
The 8th Criminal Court of Vitoria ordered bailiffs to serve him with a subpoena in 2010, but they did not locate him and the case remains open, according to court filings and a court source.
According to the U.S. Securities and Exchange Commission's rules on disclosure, companies must report legal proceedings that are material to evaluating the integrity of a director. Herbalife has not made the information about Cardoso's case public, according to proxy statements it has filed since 2009 when Cardoso joined the company's board.
Cardoso said in a statement dated this week emailed to Reuters by an Herbalife official that the lawsuit was a private matter dating back to 1998 which had no bearing on his work for the company, and that he was unaware he was being sought in the case.

I have received no official notification of any kind with regards to this matter, he said.
Herbalife declined requests for additional comment. The SEC declined to comment.
The company is under investigation by the SEC, the Federal Trade Commission, and the Federal Bureau of Investigations after billionaire Ackman began publicly accusing it of running a pyramid scheme that targets minorities, a charge Herbalife vehemently denies.
After Ackman announced a $1 billion short bet against the company in December 2012, other prominent Wall Street investors took the opposite side of Ackman's position, including Carl Icahn who has since become Herbalife's biggest shareholder.
Herbalife stock has tumbled 51 percent this year on weaker-than-expected earnings and guidance.
Cardoso is a member of Herbalife's Chairman's Club of top distributors and has been a board member since 2009.
According to the court, Jose Carlos Gratz, who was president of the Assembleia Legislativa do Espírito Santo (ALES) led a criminal operation that stole public funds by pretending to allocate donations to community centers, schools and hospitals. Instead the money was used to pay for private events that had no public interest.
Gratz has been sentenced to prison time but remains free while pursuing an appeal. He said in a statement posted on a personal blog that his signatures on checks issued by the local legislature were forged.
Prosecutors say Cardoso was part of the embezzlement scheme because a firm in which he was a partner cashed an ALES check for 6,000 Brazilian reais that was signed by Gratz in 1999, according to the court documents.
If found guilty by a judge, he could face anything from a fine to up to 10 years in prison, a court official in Vitoria informed Reuters in a written statement.
The court official said authorities have been unable to find Cardoso because he has moved several times without notifying the court as required by law.
Brazil's judicial system has a reputation for being disorganized and it is common for court cases to languish for years without being resolved.
Reported by Business Insider
CNBC Recently reported that Herbalife has made a statement; they were unaware of the charges until a few days ago.