Industry Leaders, Ray And Robin Sanchez, Join Vemma
November 5, 2014
By Tina Williams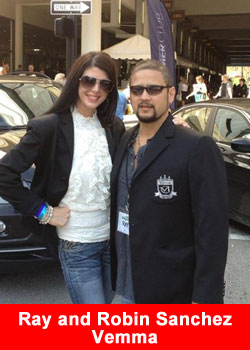 Nearly 11 years ago, Ray and Robin Sanchez realized how this industry was their answer to providing more for their family of 11. Ray, a top local Michigan musician, and his wife, Robin have experienced great success with two different companies. Their passion is to help others, just like themselves, who desire more for their families.
After seven years in the industry and downturn of the economy, Robin found her business struggling. When people are just trying to put food on their tables, they will sacrifice the expense of name brand face and foot creams, Robin says.
In 2011, in an effort to find an answer to turn finances around, Ray joined a health and wellness company with a 90-day challenge platform and realized success early on. Robin soon joined him and the couple went on to build a successful business.
With Vemma having explosive growth and doubling in sales in the last year, they found themselves intrigued with the possibilities to lead even more people to greater success. We have seen it proven again and again that timing is more important than skill, says Ray. "There are so many facets of Vemma we fell in love with. We are impressed with this 10-year old debt-free company that aligns with our values of God first, family second and business third which is modeled from the top of the company by Vemma CEO, BK Boreyko, who has created a family legacy culture. The superior products offer something for everyone from age 2 to 102. We are honored and super excited to have found a home with Vemma!
Leadership is such a major part of the success of any team. We are proud to partner with Vemma Founder and CEO, BK Boreyko, as well as friends and industry leaders Dale Peake and Tina Hockmuth, who model this in every area of their lives. Together as a team we will impact a lot of families, as we lead them to realize their goals and dreams are truly possible with Vemma. With everything we have in alignment, we have really created the perfect storm, say Ray and Robin.
About Vemma
Founded in 2004 by BK Boreyko and his two sisters, Karen and Lauren, Vemma Nutrition Company enjoyed $100+ million growth last year as one of the premier industry leaders specializing in premium liquid nutrition. Every month, thousands of new customers experience the positive difference of the clinically studied Vemma Formula. The Vemma brands include the clinically studied Verve® healthy energy drink and Vemma Bod-e®, a weight loss line. Vemma is headquartered in Tempe, Arizona, and distributes its products through global affiliate marketing. For more information, please visit Vemma.com.