International Study Reveals Attitudes Toward Self-Employment – Amway
November 22, 2014
By Tina Williams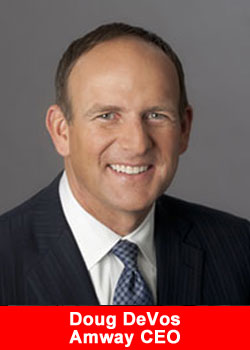 Are entrepreneurs born or made? And what drives them to start their own businesses?
These questions were posed by the 2014 Amway Global Entrepreneurship Report (AGER), an annual survey that takes the public pulse on the state of self-employment around the world. This year's report explored entrepreneurship education.
Unique in its broadness and regularity, the AGER fosters global discussion on entrepreneurship and raises awareness of the significant role entrepreneurs play in modern economies. The groundbreaking first survey launched in 2010 as the Amway European Entrepreneurship Report, then expanded worldwide with the 2013 AGER, encompassing 24 countries. This year's report spans a record 38 markets, with face-to-face and telephone interviews conducted with 43,902 men and women aged 14-99.
"Entrepreneurs play an important role in growing economies," said Amway Chairman Steve Van Andel. "They create jobs, encourage competition and help communities grow and flourish. As the business environment has changed through the years, so have the reasons people decide to venture out on their own. We hope this report advances the discussion on entrepreneurship and leads to a deeper understanding of what can be done to encourage and better prepare more people around the world to start businesses of their own."
2014 Key Findings
The AGER reveals that entrepreneurship is highly valued around the world. Consider these key findings:
Entrepreneurs can be made.
At a resounding 63 percent, global respondents reported that they believe entrepreneurship can be taught. Those under age 35 held the strongest beliefs (70 percent), while men and women were virtually of the same opinion, at 64 percent and 63 percent respectively.
Education is everything.
Respondents rated the most crucial aspect of entrepreneurship education as "basic business skills" (42 percent), followed by "leadership and management skills" and "entrepreneurship in practice," at 37 percent each. "Schools and secondary education" were their classrooms of choice (36 percent), with "special start-up programs" and "universities, higher education" second and third, at 33 percent and 32 percent respectively. Yet just four in ten (43 percent) found their educational options satisfactory.
Positivity prevails.
On average, 75 percent of respondents have positive attitudes toward entrepreneurship – an increase of four percent – with those under 35 years the most optimistic, at 80 percent. Entrepreneurial potential remained high as well, with two out of five respondents (42 percent) saying they can imagine starting a business. Findings showed a correlation between these two factors: In countries where people were more positive about entrepreneurship, a higher percentage can also imagine starting a business. However, only nine percent of global respondents are currently self-employed, creating an entrepreneurial gap of 33 percent.
Freedom and fulfillment ring.
When ranking the reasons to choose entrepreneurship, 46 percent said "independence from an employer, being my own boss," while 43 percent identified "self-fulfillment, possibility to realize own ideas." As with the 2013 AGER report, these two factors clearly were preferred over income-related aspects – and respondents aged 14-34 years had even stronger beliefs, at 50 percent each. It's also important to note that the lower a country's economic output per capita, the less important independence becomes as a driver for entrepreneurship.
Younger generations are most optimistic about entrepreneurship," added Amway President Doug DeVos. "The report points to their great potential. We must use this key insight to continue fostering the entrepreneurial spirit and create a global culture that unleashes the capabilities of younger people.

Amway partner and Chair for Strategy and Organization at Technische Universität München (TUM) Dr. Isabell M. Welpe agrees. "Promoting entrepreneurship supports the development of national economies – entrepreneurs advance ideas that enrich our society and our lives. Policymakers should seize this chance by initiating entrepreneurship education targeted at younger generations."
About the Amway Global Entrepreneurship Report (AGER)
The 2014 AGER was conducted by Amway, in partnership with the Chair of Strategy and Organization of the School of Management, TUM in Munich, Germany. Fieldwork was completed by the Gesellschaft fuer Konsumforschung (GfK) Nuremberg from April through July 2014. Results are shared with the academic community, including the 38 AGER academic advisors and all interested think tanks and academic and public institutions. Please visit AmwayEntrepreneurshipReport.com for more information.
About Amway™
Amway is an $11.8 billion direct selling business based in Ada, Michigan, USA. Top-selling brands for Amway are Nutrilite™ vitamin, mineral and dietary supplements, Artistry™ skincare and color cosmetics, and eSpring™ water treatment systems – all sold exclusively by Amway Business Owners. Global sales in 2013 made Amway the #1 direct selling business in the world, according to the Direct Selling News 2014 Global 100.