Jeunesse Co-Founder, Wendy Lewis, Named Woman of the Year & Wins Six Stevie Awards
November 19, 2014
By Tina Williams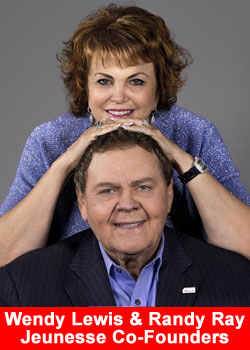 After being named one of The Most Influential Women in the multi-level marketing industry by Direct Selling News for the second consecutive year, and celebrating a record-breaking 50 million-dollar month, Wendy Lewis has been named Woman of the Year in the 11th annual Stevie Awards for Women in Business.
The Stevie Awards for Women in Business are the world's top honors for female entrepreneurs, executives, employees, and the organizations they run. All individuals and organizations worldwide are eligible to submit nominations—public and private, for-profit and non-profit, large and small.
The 2014 awards received entries from 22 nations and territories and 1,200 nominations from organizations of all shapes and sizes. Wendy won Stevie Awards in the following categories: Gold for Woman of the Year in the Industry Category, Silver for Fastest Growing Company of the Year, Silver for Maverick of the Year, Silver for the Lifetime Achievement Award, Silver for Woman of the Year in the Business Services Category, and Gold for fifth place among all nominations submitted for the Stevie Overall Achievement Award.
As Co-Founder and Chief Operations Officer at Jeunesse, Wendy makes key decisions daily to support the development of distributors in the field. By opening new markets strategically, she initiates sustainable growth, and by introducing products that are a benefit to consumers, she ensures that Jeunesse® is encouraging people to live healthier, happier lives. With a network of more than 300,000 distributors in 100 countries, Jeunesse has paid over $338 million in commissions under Wendy's leadership.
Nicknamed the Stevies for the Greek word for "crowned," the awards were presented to winners Friday night during a dinner event attended by more than 400 people at the Marriott Marquis Hotel in New York City. The presentations were broadcast live across the U.S.A., and simulcast around the world, by Biz Talk Radio, and will be featured in a television special on Biz TV in January.
"In the 11 years of the Stevie Awards for Women in Business, we have never had as many impressive women entrepreneurs, organizations, and executives nominated as we did in 2014. Their stories of success and innovation will be an inspiration to women around the globe who dream of starting and growing a business and making a difference." said Michael Gallagher, founder and president of the Stevie Awards. "We congratulate all of this year's Grand, Gold, Silver and Bronze Stevie Award winners for their achievements."
Over the years, Wendy has remained active by fundraising and launching worldwide campaigns for Jeunesse Kids™. When asked about her success, Wendy said: "I can't take credit for what Jeunesse has become. We have the infrastructure in place to help people around the world because we have a really dedicated team on board. One thing I can say is that I'm really proud of what we've put together—I'm proud this company is changing lives."
About The Stevie Awards
Stevie Awards are conferred in six programs: the Asia-Pacific Stevie Awards, the German Stevie Awards, The American Business Awards, The International Business Awards, the Stevie Awards for Women in Business, and the Stevie Awards for Sales & Customer Service. Honoring organizations of all types and sizes and the people behind them, the Stevies recognize outstanding performances in the workplace worldwide.
About Jeunesse
Jeunesse is a leading direct selling company devoted to encouraging healthy living. Company research focuses on adult stem cell science, telomere support, DNA repair, fat loss technology, and nutrigenomics. Products are made in the USA and are exclusively formulated for Jeunesse. With a multi-lingual customer service, back office support team, global enrollment system, and in-house programming already in place, the company is fully operational in 32 offices around the world.
Its distribution channels extend to over 100 countries. Jeunesse and the Jeunesse logo are registered trademarks of Jeunesse Global, LLC in the U.S. and/or other countries. For more information, please visit: www.jeunesseglobal.com.
Follow Jeunesse on Facebook or Twitter
https://www.facebook.com/TheScienceOfYouthfulAging
https://twitter.com/jeunesseglobal
Related Links
https://www.jeunesseglobal.com
Source
Jeunesse