Nerium Showcases Product Line Annual Latin GRAMMY Awards
November 26, 2014
By Nicole Dunkley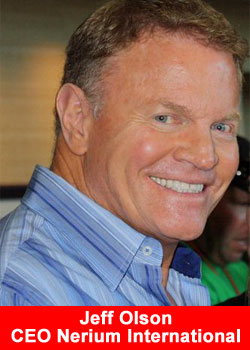 Nerium International, the leader in age-defying skincare products, served as the official skincare sponsor of the 15th Annual Latin GRAMMY Awards® Official Talent Gift Lounge, held Nov. 17-19. The sought-after brand showcased its line of NeriumAD® Age-Defying Treatment Night Cream and Optimera™ Night Cream with multiple Latin celebrities and influencers, including Eugenio Derbez, Angelique Boyer, Alejandra Espinoza and Jaime Camil.
Representatives of Nerium International greeted celebrities who attended the Official Talent Gift Lounge with a gift package of Optimera night cream, a skincare line that recently launched in Mexico. The Nerium team also presented VIP guests with NeriumAD night cream. Both products reduce the appearance of fine lines and wrinkles, discoloration, uneven skin texture, enlarged pores and aging skin without harmful ingredients.
This year's Latin GRAMMY AwardsTM was an ideal opportunity to share the benefits of our two product lines with top stars in the Latin community, said Amber Olson Rourke, Chief Marketing Officer at Nerium International. Nerium and Optimera take care of multiple skin concerns at once, making it easy for consumers to simplify their beauty routine. This is perfect for the busy celebrity lifestyle.
Formulated after more than 10 years of scientific research, Nerium's original product line includes NeriumAD Age-Defying Day Cream, NeriumAD Age-Defying Treatment Night Cream and NeriumFirm Body Contouring Cream, all of which include the exclusive, patented NAE-8 extract, derived from the Nerium oleander plant and Aloe.
About Nerium International:
Nerium International™, LLC, headquartered in Addison, Texas, is a relationship marketing company that markets breakthrough products validated by science. Since its August 2011 launch in the US, Nerium has reached record-breaking sales and earned industry accolades while building millions of consumer fans along the way. Led by an executive team with more than 200 years of collective industry experience, Nerium International is committed to developing and distributing skincare products that are rooted in real science, produce real results, and improve consumers' lives.