Noal Floyd – Brain Abundance Top Earner Interview
November 5, 2014
By Team Business For Home
Noal Floyd from Central City, Kentucky, USA is one of the Top Earners in Brain Abundance.
Noal Floyd has been recognized as one of the top recruiters and leaders in Brain Abundance. His experience with MLM started at a very young age through his parents successful involvement in a top ranked company.
Noal began his career only after he had hit rock bottom in the corporate world. Knowing that the industry worked, he was able to execute a plan a of action that allowed him to walk off his job in just a few short years.
Noal's choice to partner with Brain Abundance was simple. "It is a breath of fresh air to the industry" he states. With a product that has a proven track record and the simplicity of the marketing plan, it makes it quite simple for anyone to have results with Brain Abundance.
Brain Abundance launched worldwide in January 2014 and quickly grew to over 15,000 members. Now shipping to over 160 countries, it's growth continues to greatly exceed the expectations of the company's founders.
Ted Nuyten had to honor to interview Noal Floyd.
Noal, what was your opinion about MLM before you got involved, did your parents influence you?
I knew the industry worked if I would work it. After seeing my parents become successful in a major MLM when I was a child, I knew it was a great option for me to dive in to.
How did you transitioned to Brain Abundance, did a newbie sign you up?
The transition was an experience in itself. I had become one of the top money earners in a company that eventually merged with another company. The products were gone, the compensation plan was even gone. We lost most of our income that we had worked so hard for.
I wasn't giving up though, I searched for several months for something I would be proud to partner with, something I knew was sustainable, and something I would be confident to share with others.
When I finally chose to partner with Brain Abundance, I partnered with someone I had known for a few years. I wanted to make sure the team we were building would have the proper help and support that was needed in building a successful business.
What is the secret of your success?
I never have considered myself successful. I firmly believe that once a person goes into management mode, their organization is going to fall apart. Taking action daily is very important when building your business. People can have goals and dreams but if they are not taking action they will simply remain a dream.
Noal Floyd with Brain Abundance CEO Eric Caprarese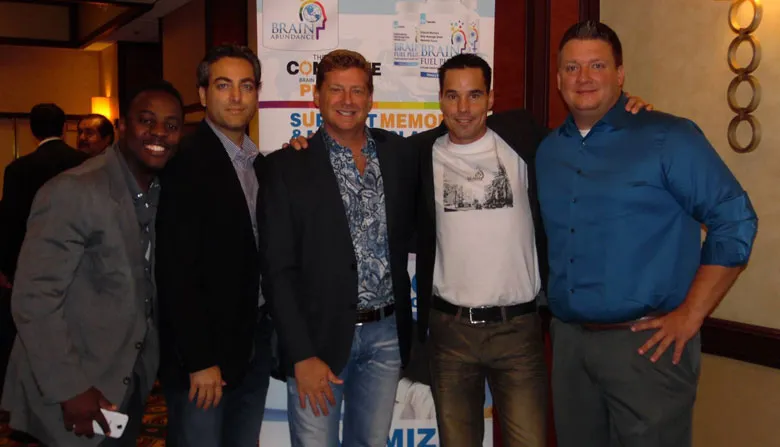 How do you get duplication in?
I believe in keeping it simple. Not everyone can properly execute a webinar presentation or a conference call, however everyone can invite. Some of my greatest mentors taught me to become a professional inviter.
As long as I could invite effectively I could build my business. When you can keep it as simple as inviting people to "push play" duplication just falls in place.
Do you just enroll anybody or are you selective?
I will enroll anyone who is serious about joining me. I usually put people through a small interview and discuss their goals. I want to make sure their goals and expectations are realistic based on their experience in the industry. I do believe that anyone can do MLM. If I can do it anyone can.
Why Brain Abundance, what makes it different?
Brain Abundance is a breath of fresh air to me, starting with the leadership. Having a CEO who is a successful network marketer was very important to me. Brain Abundance has a first to market product in our industry. Looking at the track records of other companies who were first to market their particular product I am confident that Brain Abundance will be the leading company that focuses on Brain Health.
One of the things that really caught my eye was the ability to build this business online or offline. With all of the tools that are offered with the turn key marketing system, it really makes it simple for even a newbie to get started relatively fast.
Is personal development important for you and your leaders?
Absolutely, I am learning something new every day. Personal development should be a requirement to have your own business. I encourage not only my leaders to partake in personal development, but everyone on the team.
Do you Babysit your members?
I wouldn't say I babysit, I keep people informed. It is up to each individual to take action and develop a routine in building their business. I have never been in the business of pacifying my team.
What are your plan and goals for the future?
My plan is to always be looking forward and to help as many people as I can to achieve their goals. I love sharing with others the journey we have been on over the past few years. The more I share with others the more people I find who are in the same or similar situation that I was in.
I believe one of my biggest goals I have set for myself would be writing my first book. Just a snapshot of my first ten years of marriage. How we started on top, hit the bottom and where we are now. This will be one of the most challenging goals I have set to date.
Do you have advice for a "Newbie" in the MLM industry?
Don't be afraid to put your potential sponsor in the hot seat. Ask a lot of questions.
"How many businesses have you been in over the past year?"

"Who will be there to help me when you quit?"

"Can you get me on the phone with your mentor/leader?"

Take action daily.

Develop a daily routine that includes personal development.

Talk to your sponsor daily if possible.

Stay excited about what you are doing. If you are not excited, don't expect anyone else to be.
To Learn more visit www.partnerwithba.com