PartyLite Named Best Direct-Selling Company In Europe 2014
November 10, 2014
By Tina Williams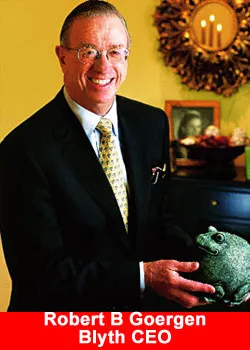 European direct sales association Seldia has selected PartyLite as the best European direct selling company in 2014. During the association's annual conference in Brussels/Belgium in early October, Martin Köhler, PartyLite President Europe, accepted the prestigious ASTRA award from Seldia's chairman & CEO of Swedish company Oriflame, Magnus Brännström.
In paying tribute to the winner, Brännström highlighted the strong similarities between the PartyLite business model and the goals Seldia works hard to achieve: primarily the promotion and further development of the direct sales model across Europe including the social welfare and economic aspects for direct sales professionals, especially the active support of career opportunities for women. In addition, the chairman also praised the enormous support of Seldia itself by PartyLite Europe with regard to the growing digitalisation.
Aside from the big win for PartyLite, Spanish member of the European Parliament, Teresa Jimenez, was also recognised with an ASTRA (Personality of the Year) for her active support of Seldia's platform for female entrepreneurs, as well as the UK DSA which received the Best Direct Selling Association of the Year Astra Award.
Headquartered in Brussels, Seldia represents the direct sales industry within the European Union and counts 28 European direct selling associations (DSAs), out of which 23 are in EU member states and 17 Corporate Member within its organisation. The association acts on behalf of more than 1,000 direct sales businesses within Europe with roughly 12 million independent direct sales professionals, who bring in revenues of over EUR 23 billion annually.
Martin Köhler thanked the association as well as all in attendance for the important award and recognition of the trendsetting developments accomplished by his company.
PartyLite is on the right path in terms of taking its innovative business model and linking it to cutting-edge digital elements. Our business strategy has aimed to combine successful direct selling methods with the latest technology options available on the market and to establish PartyLite as the leading social shopping experience business, explained Köhler. The award is proof to the company's management team that the strategy not only works, but that it should continue to be pursued.
More
The partnership between PartyLite and Seldia is very important to our organisation. We are extremely pleased that our business model has achieved this wonderful recognition from Europe's leading direct sales association, exclaimed Armel Peillonnex, senior vice president at PartyLite Europe, adding, PartyLite offers its customers worldwide a first-class social shopping experience, which has proven to be quite successful.

We pledge to continue offering our support and innovation to Seldia and its member associations to help ensure that direct selling channels continue to make further inroads in the region.
Seldia
SELDIA is the representative body for the direct selling sector in Europe, whose members include 28 European Direct Selling Associations (DSAs), 23 of which in EU Member States. SELDIA represents directly through its corporate members and indirectly through the national associations over 350 direct selling companies with annual sales in excess of 20 billion Euro and 12 million independent direct sellers.
PartyLite Trading S.A.
PartyLite is a global leader in the Direct Selling Industry in producing and selling high-quality lifestyle products such as candles, home fragrances and accessories. In 2014, PartyLite celebrates 41 years as the leader in its category and 24 years as a member of the distinguished Blyth family of direct selling companies (BTH). Blyth ranks #18 in the Direct Selling News Global 100 top revenue-generating direct selling companies for 2013.
Along with locations in the US, Canada, Mexico and Australia, the exclusive products are also distributed in 13 European countries. With passion, innovation and as world market leader in its category PartyLite creates opportunities every day.