Talk Fusion Highlights Business Opportunity In New Video
November 19, 2014
By Nicole Dunkley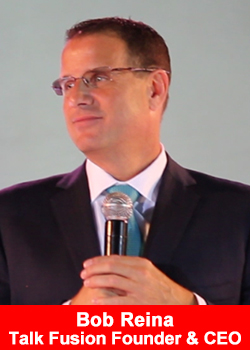 As part of their current drive to launch their new patent-pending video communication products and corporate marketing, Talk Fusion has commissioned the production of a brand-new Opportunity Presentation video that reflects the exciting new enhancements. The video explains Talk Fusion's once-in-a-lifetime opportunity to help earn financial freedom, and is the highlight of the company's all-new join site, set to release soon.
The new opportunity video will join Talk Fusion's highly sought-after live online presentations, which are available in multiple languages at pre-scheduled times daily. No schedule is needed for the new video, however, which will be available 24 hours a day, translated into 11 languages, and play on demand.
An Independent Associate will only need to bring interested prospects to the new join site and the Business Opportunity video will do all of the work for them: the perfect presentation every time, designed to demonstrate why now is the best time to join Talk Fusion. Enjoying skyrocketing growth, Talk Fusion's business reaches across the globe, changing lives in over 140 countries worldwide.
At the heart of it all is Talk Fusion's World's First Instant Pay Compensation Plan.
Talk Fusion's outstanding business opportunity video covers everything from the company's innovative video technology – which is changing the very way people communicate – to the astounding incentives Talk Fusion offers. Successful Associates can look forward to fantastic vacation rewards to tropical Hawaii, a prestigious Rolex watch for rank achievement, gold and diamond rings for lifetime earning milestones, and even Talk Fusion paying them monthly to drive a luxurious Mercedes-Benz – or actually buying it outright when they qualify.
Talk Fusion is excited to bring this Hollywood-caliber video to their Associates, produced entirely in-house by Talk Fusion's creative marketing and video departments. New Prospects will realize how Talk Fusion can change their lives, discover CONNECT's disruptive video technology, and learn how Talk Fusion's Instant Pay Compensation Plan will pay them to share that technology and help them achieve their dream lifestyle.
Armed with that information, they can join thousands of other new Associates as they pursue their own financial freedom through Talk Fusion.
The new Business Opportunity Presentation, like so much with the enhanced and redesigned Talk Fusion, is Better with Video.
ABOUT TALK FUSION
A global leader in video communication products, Talk Fusion connects people around the world through cutting-edge video technology and the means to share it, empowering them to live their dreams. Talk Fusion's innovative video products are marketed person-to-person by independent Associates in more than 140 countries.
Founded in 2007 by CEO Bob Reina, Talk Fusion introduced the world's first Instant Pay Compensation Plan. Talk Fusion adheres to the highest ethical business practices and is a member of the prestigious Direct Selling Association (DSA). Reina firmly believes that "with great success comes greater responsibility."
Talk Fusion fosters a strong commitment to giving back to friends, family, communities, and animal charities across the world to produce a positive global change. Learn more at www.TalkFusion.com and "Like" Talk Fusion at www.facebook.com/TalkFusion.
Income Disclaimer:
Any earnings portrayed in any Talk Fusion marketing materials are not necessarily representative of the income, if any, that a Talk Fusion Associate can or will earn through his or her participation in the Talk Fusion Instant Pay Compensation Plan. All references to income, implied or stated, throughout the Talk Fusion Instant Pay Compensation Plan are for illustrative purposes only. These figures should not be considered as guarantees or projections of your actual earnings or profits. Talk Fusion does NOT guarantee any level of income or earnings to any Associate; any representation or guarantee of earnings would be misleading. The purchase of a Talk Fusion Product Package is completely optional and is not required for an Associate to participate in the Talk Fusion Instant Pay Compensation Plan.