Talk Fusion Live Meetings Takes Video Conferencing To Next Level
November 26, 2014
By Nicole Dunkley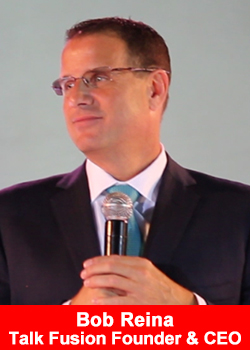 The internet moves fast, with trends and designs changing all the time, so Talk Fusion products have to move even faster. That's why Talk Fusion is reimagining their breakthrough video broadcast platform with a new design, more functionality and never-seen-before patent-pending technology. They even gave it a new product name: "CONNECT Live Meetings."
Retaining all of the innovative capabilities of the original CONNECT 3-in-1 platform – video broadcast, live conferencing, and desktop share – Live Meetings will take the industry by storm with significant enhancements and a total facelift to both its presentation maker and live conference interface. Live Meetings will be easier to use and easier to share than ever – an exciting new look for both prospects and customers.
As part of the product reinvention, Live Meetings adds the exclusive ability to share a web browser screen during the actual video meeting presentation.
"The built-in web browser lets you surf the internet during your meeting and talk to your attendees at the same time. Anywhere the internet can take you, you can display in real time with Live Meetings," says Talk Fusion Founder & CEO Bob Reina. "There are so many features and functionality enhancements in this product. This new version has really exceeded my expectations, and I set the bar very high."
The Live Meetings dashboard and easy-to-use scheduler have all undergone design and functionality enhancements; the video broadcast platform is also adding an all-new whiteboard and built-in intuitive tool bar.
Final beta testing for Live Meetings begins soon. The response for Beta Testers was through the roof – only 500 spots were available and they were all taken instantly after the announcement was made. With this kind of excitement, Talk Fusion expects to launch Live Meetings to enthusiastic Associates and Customers who will take video conferencing and live presentations to the next level.
ABOUT TALK FUSION
A global leader in video communication products, Talk Fusion connects people around the world through cutting-edge video technology and the means to share it, empowering them to live their dreams. Talk Fusion's innovative video products are marketed person-to-person by independent Associates in more than 140 countries.
Founded in 2007 by CEO Bob Reina, Talk Fusion introduced the world's first Instant Pay Compensation Plan. Talk Fusion adheres to the highest ethical business practices and is a member of the prestigious Direct Selling Association (DSA). Reina firmly believes that "with great success comes greater responsibility."
Talk Fusion fosters a strong commitment to giving back to friends, family, communities, and animal charities across the world to produce a positive global change. Learn more at www.TalkFusion.com and "Like" Talk Fusion at www.facebook.com/TalkFusion.