Talk Fusion: "We're Just Getting Started"
November 5, 2014
By Nicole Dunkley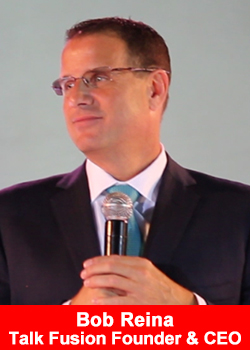 When Direct Selling veteran and philanthropist Bob Reina established Talk Fusion in 2007, his vision to bring people together with the power of video went global. Every moment since then has been history in the making, foreshadowing the exciting future to come.
With Independent Associates in over 140 countries, Talk Fusion continues to make dreams come true and change the way people around the world communicate and market their businesses. Talk Fusion's in-house team of product developers prides itself on taking a creative approach to breaking communication barriers.
In 2007, Talk Fusion's premier product Video Email ended the era of boring black and white emails. Now, in 2014, the upcoming release of CONNECT Video Chat will change communication as we know it again: using WebRTC technology, people around the world will soon be able to chat face-to-face on any device, anywhere, at any time.
In their company-wide live broadcast on November 4, Talk Fusion Founder & CEO Bob Reina and VP of Training & Development Allison Roberts confidently announced to Associates that the company is on the cusp of greatness.
"It's a great time to be us," said Founder & CEO Bob Reina. "We do a great job at developing new technology and adding new features and functionalities. Talk Fusion's at the forefront of this amazing technology and we are setting future trends."
Standing on a solid seven-year foundation of strong ethics, dynamic leadership, and exciting products, Talk Fusion is just getting started.
A detailed look at Talk Fusion's company history is available at Talk Fusion's blog.