Top Industry Leader, Cedrick Harris, Joins Jeunesse
November 18, 2014
By Tina Williams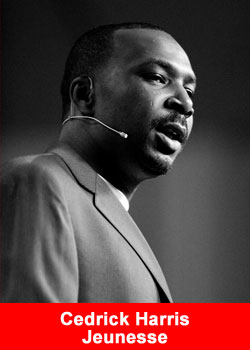 Jeunesse welcomes top earner, Cedrick Harris, into their global network of distributors.
Cedrick Harris is an internet marketing coach, published author, and speaker who has been in the network marketing industry for over 17 years. He is famous for being a high profile recruiter in various companies; while leading his team in one corporation, he produced over $60 million in revenue and created multiple six figure earners.
Cedrick has also achieved the top rank in a number of the companies he's joined; in one of his previous positions, he networked over 70% of the entire company in his organization. When asked about his decision to join Jeunesse,
Cedrick said, "What initially attracted me to this company was the integrity of its owners, Wendy and Randy, but there's a lot more to it than that.

What solidified this decision for me was that Jeunesse is not only a close-knit family company with a legacy, but that it has far-reaching international leadership in over 100 countries and a solid online presence. This move is really going to take my team to new heights and create bright futures for each and every one of them.

There's a legitimate opportunity for growth here: the products are complete game-changers. Their newly launched product, Instantly Ageless™ gives the instant gratification needed in the anti-aging market with a very reasonable price-point, and I love that."
Jeunesse was founded by Wendy Lewis and Randy Ray, and is built on a solid network of international teams from Asia Pacific to Europe and North America. With record sales of $50 million just last month, and its recent addition as #258 on the INC. 500 List, Jeunesse is attracting high-profile professionals from all over the world.
Cedrick asserts that he has found his home in Jeunesse: "If networkers are looking for a real home with an international play, exemplary ownership, a superb compensation plan, and products that actually get results, you deserve to take a look at Jeunesse."
About Jeunesse
Jeunesse is a leading direct selling company devoted to encouraging healthy living. Company research focuses on adult stem cell science, telomere support, DNA repair, fat loss technology, and nutrigenomics. Products are made in the USA and are exclusively formulated for Jeunesse. With a multi-lingual customer service, back office support team, global enrollment system, and in-house programming already in place, the company is fully operational in 32 offices around the world.
Its distribution channels extend to over 100 countries. Jeunesse and the Jeunesse logo are registered trademarks of Jeunesse Global, LLC in the U.S. and/or other countries. For more information, please visit: www.jeunesseglobal.com.
Follow Jeunesse on Facebook or Twitter
https://www.facebook.com/TheScienceOfYouthfulAging
https://twitter.com/jeunesseglobal
Related Links
https://www.jeunesseglobal.com
Source
Jeunesse