Trévo Nigeria Top Earner Drives Away From Gala In Style
November 13, 2014
By Nicole Dunkley
Last week, Trévo Life and Health Coaches from all over the world gathered in Lagos to celebrate the third anniversary of Trévo Nigeria. As part of the festivities, President and CEO, Mark Stevens, along with Nigeria Country Director, Samuel Owoeye, General Manager, Benjamin Peter, Nigeria Staff, and Trévo Corporate Staff from the United States, held a special gala to honor Trévo Nigeria's top Life and Health Coaches.
One earner, in particular, had a night to remember. Segun Sosanya, was honored as one of the first individuals ever to achieve Trévo's White Diamond status.
As the festivities commenced, Sosanya joined the rest of Trévo Nigeria's top earners on stage for what was sure to be a special moment. One-by-one, Stevens presented these individuals with a check and trophy as rewards for their efforts over the last year. Top Leaders were given a check for $1,000, Top Directors were awarded $3,000, and top Executives received $9,000.
But as the CEO stepped towards Sosanya, his hands were empty.
"Sorry, Segun, I unfortunately don't have a check for you," Stevens said as the room filled with an uncomfortable air of disbelief. "But I do have something else you for you."
Stevens then pointed to the screens to reveal a beautiful black 2014 Land Rover Discovery, presented with beautiful Trévo green and purple bows. The entire room immediately reached fever pitch. Life and Health Coaches from the audience ran to the stage to congratulate Sosanya and to praise Mr. Stevens for the amazing award.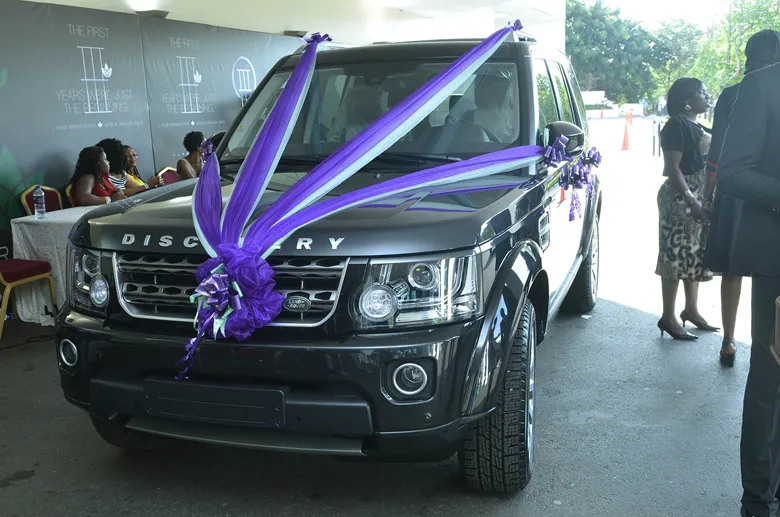 "The award of the luxury car came as a surprise," Sosanya said. "It was never my priority. All I have always cared about was to meet my monthly target and I achieved that by spreading the word and helping more people succeed in their business."
While the evening continued with many amazing prizes and awards, if you ask any attendee about the event, they will be sure to tell you that the luxury car surprise will be remembered as the highlight of the evening.
ABOUT TRÉVO
Trévo's Founders are Mark and Holli Stevens who have a proven track record of over 16 years as owners of a successful network marketing company. Mark and Holli have also been on the "other side of the table" as independent representatives, building organizations with tens of thousands of members. This dynamic duo also possess nearly four decades of combined business ownership expertise.
Trévo's proprietary blend of over 174 premium nutraceuticals, including maqui and acai berries, mangosteen, amalaki fruit, gotu kola, ashwagandha and a cornucopia of other fabulous nutraceuticals. In fact, Trévo has developed the only nutritional supplement in the world to combine and harness the power of such a remarkable array of vitamins, minerals, "supergreens," antioxidant-packed fruits and vegetables, coral calcium, and herbs from around the globe.
Based in Oklahoma, USA Trévo LLC is powered by a global network of many thousands of energetic and excited Life and Health Coaches.