Avon $135 Million Fine For Bribing Chinese Officials
December 18, 2014
By Tina Williams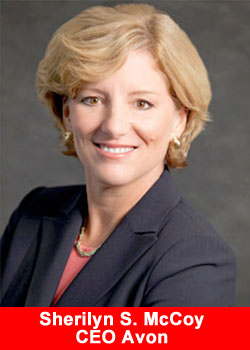 Avon Products Inc. (AVP)'s Chinese subsidiary bribed local officials with Gucci bags and foreign travel in order to sell products directly to the nation's consumers, the U.S.A. said as the company ended a six-year federal investigation with a guilty plea and $135 million in fines.
Avon is also subject to a deferred prosecution agreement requiring it to adopt "rigorous" internal controls and avoid further violations for three years before the case will be dropped. The plea, which includes an outside monitor, was announced at a hearing today in Manhattan federal court.
The world's largest door-to-door seller of cosmetics had said in May it would settle the probe. Its Chinese unit pleaded guilty to conspiring to violate U.S. anti-bribery law by falsifying records of a four-year scheme to pay off Chinese authorities, who ended a direct sales ban in 2006.
"For years in China it was 'Avon calling,' as Avon bestowed millions of dollars in gifts and other things on Chinese government officials," said Manhattan U.S. Attorney Bharara today. "Avon China was in the door-to-door influence-peddling business and for years its corporate parent, rather than putting an end to the practice, conspired to cover it up."
Avon China provided gifts and entertainment to Chinese officials, "and falsified these transactions on its books and records," Avon general Counsel Jeff Benjamin told U.S. District Judge George Daniels. "Avon China's conduct in this regard was wrong."
Three Executives
Three Avon China executives and two lawyers paid at least $8 million in gifts and other gratuities to local authorities to circumvent China's direct sales ban, the government said. The gifts allegedly included meals, expenses and travel, as well as the "personal luxury items like designer wallets, bags or watches." In return, Avon China obtained direct sales licenses and favorable judicial treatment.
Included was an 18-day sightseeing trip in 2006 for four Chinese officials, with visits to cities including New York, Montreal, Las Vegas and Washington, the U.S. said. Avon China employees spent hundreds of dollars on accessories, such as an $800 Gucci bag, and $8,100 on meals and entertainment in 2006.
The payments were hidden on company records as "business entertainment," "employee travel" or "public relations business entertainment," according to the government.
The Securities and Exchange Commission filed a parallel lawsuit today, describing how Avon allegedly obtained the first sales license in March 2006 after it "provided over $100,000 in cash or things of value to government officials."
Potential Wrongdoing
New York-based Avon learned of potential wrongdoing at the subsidiary in late 2005, the SEC said, but proposed reforms were never put in place.
Avon became one of the first companies to obtain a license in China to sell products directly to consumers -– the cornerstone of its business model — when the sales ban was lifted.
By July 2006, the company had hired more than 114,000 door-to-door salespeople in China. Then-Chief Executive Officer Andrea Jung said at the time the company viewed the country as a potential $1 billion market. Sales in China surged 28 percent to $67.2 million in the company's fourth quarter that year.
Avon again began looking into allegations of improper payments in China in mid-2008, sparked by a whistle-blower's letter to Jung. The law firm Mayer Brown LLP was brought in to conduct the probe, and the company reported the allegations to the Justice Department and SEC, Avon said in October 2008.
Avon Disclosure
By 2009, Avon disclosed the probe had expanded beyond China and also involved "use of third-party vendors and consultants," "joint ventures and acquisitions, and payments to third-party agents," according to a company filing.
In May 2011, Avon fired four executives connected to the bribery inquiry and the following year named a new head of its China unit.
The New York-based company spent at least $344 million on its internal investigation, more than twice as much as Weatherford International Ltd. (WFT), a Geneva-based oil services company that resolved a U.S. probe last year for $253 million.
In a 2010 meeting, government officials took the unusual step of questioning why Avon's legal costs were so high, according to two people familiar with the meeting. Avon said its legal bills had ballooned in part because the company operated in more than 100 countries without consolidated transaction records, according to one of the people.
Originally reported by: Bloomberg