Bo Short, Industry Icon and Top-Ranked Leader, Joins Jeunesse
December 19, 2014
By Tina Williams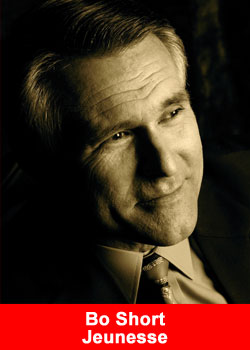 Jeunesse is honored to announce the addition of Bo Short to its global field leadership. As the company experiences continued exponential growth, Bo will use his decades of expertise in MLM to continue to stimulate significant growth around the world, while also designing a groundbreaking personal development initiative aimed at strengthening field leadership in the United States, while working closely with leading directors to further enhance Jeunesse culture.
"Very seldom in the network marketing industry does a company come along with this type of sustained growth, backed by category-creating products and a world-class compensation plan," explains Bo. " Jeunesse is such a company. It is a builder's dream to mentor a team in that (type of) environment. I know the success that awaits distributors that come here and I am honored to be a part of that process."
As a legendary figure in the network marketing industry, Bo has spent the past 25 years building successful MLM teams in 25 different countries. He most recently served as the President of Global Sales & Field Development for a large, publicly traded network-marketing company.
Ranked #31 in Business for Home's "Top 250 Lifetime Earners," Bo was later singled out as "1 of 52 of the Brightest Minds in Network Marketing." He was featured in a New York Times bestselling book about network marketing, appeared on Dateline NBC as an industry expert, and has been featured as a keynote speaker in 24 countries, with a cumulative audience of over 1 million.
Bo Short is eager to work with the sales force at Jeunesse. "My team and I look forward to giving our best and highest effort to ensure the success of those people that look to us for leadership," Bo says. "We are humbled to be a part of this global movement."
About Jeunesse
Jeunesse is a leading direct selling company devoted to encouraging healthy living. Company research focuses on adult stem cell science, telomere support, DNA repair, fat loss technology, and nutrigenomics. Products are made in the USA and are exclusively formulated for Jeunesse.
With a multi-lingual customer service, back office support team, global enrollment system, and in-house programming already in place, the company is fully operational in 32 offices around the world. Its distribution channels extend to over 100 countries. Jeunesse and the Jeunesse logo are registered trademarks of Jeunesse Global, LLC in the U.S. and/or other countries. For more information, please visit: www.jeunesseglobal.com.
Follow Jeunesse on Facebook or Twitter
https://www.facebook.com/TheScienceOfYouthfulAging
https://twitter.com/jeunesseglobal