JM Ocean Avenue Aligns With Veretekk
December 16, 2014
By Tina Williams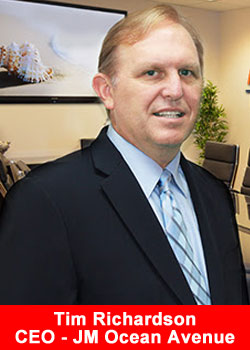 Veretekk.com, Inc. announced today a strategic alliance with new powerhouse company, JM Ocean Avenue. JM Ocean Avenue has secured exclusive benefit to the strategic marketing technology of the Veretekk online automated marketing system.
JM Ocean Avenue is a direct sales company formed by the June 2014 merger of Ocean Avenue and JM International, with partial ownership coming from JM China, a more than $2 Billion per year company.
After nearly 2 decades of servicing the industry Veretekk has had the opportunity to work closely with over 70 well known companies, said Veretekk CEO, Thomas Prendergast. Never have we been as impressed as we are with JM Ocean Avenue, its management team, emphasis on family values, and general standing within the industry.
The arrangement will grant JM Ocean Avenue exclusive benefits from the Veretekk marketing platform and all associated technologies. The system will be re-branded as the WavRiders Network. Many aspects of the Veretekk service will remain intact for continued use by customers while others will be consolidated in support of the strategic goals of JM Ocean Avenue.
The Veretekk name and brand has been well known throughout online marketing circles for about as long as the Internet itself has been around, remarked JM Ocean Avenue CEO, Tim Richardson. You don't stay in business for 18 years by doing the wrong things. We are pleased at the opportunity to align our interests and anticipate a very positive outcome.
Veretekk is credited with a long list of industry firsts, including the first self-replicating distributor websites, first email autoresponder system, first self-replicating PDF eBooks among others. Over the years literally hundreds of automated marketing system competitors seeking to imitate Veretekk's systems have come and gone. The list of knockoffs is long and auspicious. But it has been Veretekk alone to stand the test of time.
As an early pioneer Veretekk powered the back end technology for many companies well known to the industry, providing private label marketing systems, customized genealogy software and compensation plans. During its phase as an affiliate program, which spanned over 7 years, Veretekk paid out over $1 million in commissions, always on time and always accurate in its payouts.
Beyond its history of success and impact on the market, Veretekk has also been a labor of love for the past 18 years, remarked Veretekk President, Michael Darling. We built the system to serve the 'little guy' and have always focused our efforts on empowering average folks to achieve their goals and genuinely improve their lives. Veretekk has been a beacon for the unemployable, under-employed, poorly retired, single parents and the disabled. We greatly appreciate how these principles fit with JM Ocean Avenue's core values of family and community.
Since inception Veretekk's systems have been utilized by more than 20 million system users in 163 countries and include tools for lead generation, automated marketing, search engine optimization (SEO), social publishing, blogging, online conferencing, and website hosting.
We are excited about this development! stated JM Ocean Avenue Vice President, Josh Higginbotham. Beyond performance and results, the reputation of Veretekk and its owners is widely known after so many years in the market. Honesty and integrity are values people often toss around, but few exhibit them in such a public and prolonged way. At JM Ocean Avenue we embrace these same values.

JM Ocean Avenue Vice President Camaron Corr added, JM Ocean Avenue is poised for dramatic growth and the alignment with Veretekk will only add to that momentum. The sky's the limit here!

Prendergast and Darling will remain engaged to facilitate the migration of Veretekk into the WavRiders Network, the implementation of which has already begun and will be finalized in phases over the coming months. Veretekk subscribers are encouraged to watch for additional announcements concerning system updates.

Michael and I have plenty of new developments in the works and we can now apply greater focus on bringing them to market. Veretekk was a great education for both of us and shaped our views of this dynamic industry. We are pleased to be able to say Veretekk was a company that stood tall and always delivered. We have literally made millions of friends though Veretekk. Stay tuned because we are about to change the landscape of the Internet again very soon, concluded Prendergast.
About Veretekk
Veretekk is a privately held corporation specializing in online lead generation, automated marketing, and search engine optimization (SEO) systems. Established in 1996, Veretekk is widely acknowledged as an industry leader and early pioneer in defining professional standards for ethical online marketing including a 100% spam-free environment.
The company is committed to developing tools that level the playing field for average people to achieve their goals. With subscribers in 163 countries, Veretekk's most established niche market is the direct sales industry, having attracted over 20 million system users and 14,000 paying subscribers since inception. Veretekk's online assets include more than 900 separate website domains.
About JM Ocean Avenue
JM Ocean Avenue is a joint venture between two multi-national direct sales companies, Ocean Avenue and JM International, which has created opportunities for distributors and customers by expanding to 28 new markets in six continents. It offers a broad range of premium products in the nutritional supplement, personal care, and lifestyle categories. Its mission is to help families create amazing life experiences with the people they love and care about the most. The Founders of JM Ocean Avenue recognize the value of combining their strengths to create a powerful avenue for sharing the companys core values of strengthening family, contributing to community and, ultimately, benefiting all humanity.
They have established a global company that combines strong leadership, proven management practices, financial strength, and an extensive distribution network with a focused commitment to scientific research, product development, and customer support.