Mynt Celebrates Newest Diamonds, Travis And Summer Flaherty
December 22, 2014
By Tina Williams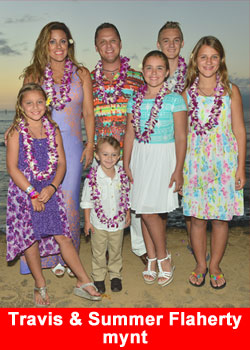 Congratulations to Travis and Summer Flaherty of Queen Creek, AZ, for advancing to the rank of Diamond Executive in just four months.
Travis and Summer believe many factors have been instrumental in the success of their mynt business. At the top of that list is their inspiring team and their collective commitment to personal development.
"If you want to attract better people in your business, or just in life in general, you have to become more," they said. "We have learned that the number one way to grow an organization is to grow the people IN that organization."

Things haven't always been easy for Travis and Summer. When they were first introduced to the industry nine years ago, they had to borrow the money to get started in the business. They were completely broke and struggling to pay their bills. "Our lowest point came after losing our traditional business," they said. "We lost everything. It was a very humbling experience."
Instead of getting overwhelmed with their setbacks, Travis and Summer saw the opportunity before them and went after it. "We continue to have struggles in our business, even today," they said. "The difference is we have learned that life's greatest obstacles often turn out to be our greatest blessings in disguise. Had it not been for losing it all, we would have never considered getting involved with the network marketing industry."
According to Travis and Summer, a strong belief system along with a strong backbone are necessities in this business. "Beginning networkers must make a daily conscious effort to build and reinforce their belief in themselves," they said. "When our belief is unshakeable, we have the confidence needed to overcome any obstacle that may stand in our way."
To foster this belief system, Travis and Summer dedicate 30 minutes a day to reading and listening to motivational coaches and mentors, while driving to and from work. They also follow a proven plan of success. They actively participate in team calls and attend the local, regional, and national events. "When we follow the plan we begin to experience small victories," they said. "This adds to our credibility and helps create momentum in our business."
This kind of momentum has given Travis and Summer the opportunity to travel the world, including visiting the MORE Project in Brazil, and the Diamond Destination in Maui this past November. But their favorite place to be is at home with their five children, affectionately nicknamed the Flaherty 5.
At the end of the day, the Flaherty motto is: "Faith it until you make it." We have no doubt that Travis and Summer will continue to build on that unshakeable belief system and inspire others along the way.