Talk Fusion Russian Associates Ring In 2015 With Global Event
December 3, 2014
By Nicole Dunkley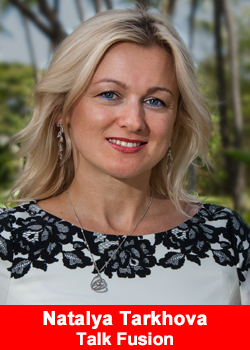 In 2015, Talk Fusion Russian Leaders are starting the year off right with the Diamond Lifestyle Event in Yekaterinburg, Russia, the country's fourth largest city and capital of the Urals Region. This year they will be more motivated than ever to change lives and set high goals for their teams to climb the ranks and earn top incentives.
Associates from across Europe will flock to the "Ural" Culture Center on January 9 – 10 for two days of excitement, motivation, awards and recognition, plus the chance to energize their efforts for the coming year.
They will meet and network with a powerful array of special guests, including Grand Blue Diamond Cedric Penn, Blue Diamond Natalya Tarkhova, and Diamond Elite Anna Tsarnenko, along with an impressive group of Diamond, Double Diamond, and Triple Diamond Associates from throughout the area.
"Talk Fusion has such huge, endless potential for growth with development in more than 140 countries! It is a great opportunity to help anyone, from anywhere in the world, carry out their dreams," said Natalya Tarkhova. "So much can happen when you follow the system and believe in your success."
The event is hosted by Diamond Associates Elena Gilevich and Elvira Eleskhanova. Elena and Elvira both left their jobs to join Talk Fusion, and after embracing the company's techniques for success, quickly rocketed to the rank of Diamond. They have taken their passion and strong spirit to the next level by hosting the Diamond Lifestyles Event.
Global events like Diamond Lifestyle give Associates the opportunity to learn why Talk Fusion CONNECT is poised to dominate the video communication industry and how they can help others create the financial freedom they deserve through the company's proven system of success.
Associates also get to experience firsthand the Diamond Rush training that has lead thousands of people across the world to go above and beyond their dreams with Talk Fusion. Inspired by Talk Fusion Founder & CEO Bob Reina's 20+ years of network marketing success, the proven principles of Talk Fusion's Diamond Rush reveal how to quickly achieve the company's distinguished rank of Diamond and qualify for the Mercedes Madness Car Bonus, the Dream Getaway in Hawaii, and reach for other remarkable incentives like a Rolex watch and gold-and-diamond Lifetime earning recognition rings.
The Diamond Lifestyles Event will set a powerful example of success with the Russian Associates for the 12 months to follow. Their success stories will no doubt inspire other Associates around the world to actively pursue their own goals of financial freedom.
ABOUT TALK FUSION
Talk Fusion, a global leader in video communication, connects people around the world with breakthrough, patent-pending video technology that is literally changing lives. Talk Fusion's innovative products are marketed person-to-person by successful Independent Associates in over 140 countries.
Created in 2007 by Founder & CEO Bob Reina, Talk Fusion introduced the world's first Instant Pay Compensation Plan. The company adheres to the highest ethical business practices and is a member of the prestigious Direct Selling Association (DSA).
Talk Fusion fosters a strong commitment to positive global change by Giving Back to friends, family, communities, and animal charities across the world. Learn more at www.TalkFusion.com and "Like" Talk Fusion at www.facebook.com/TalkFusion.
Income Disclaimer:
Any earnings portrayed in any Talk Fusion marketing materials are not necessarily representative of the income, if any, that a Talk Fusion Associate can or will earn through his or her participation in the Talk Fusion Instant Pay Compensation Plan. All references to income, implied or stated, throughout the Talk Fusion Instant Pay Compensation Plan are for illustrative purposes only. These figures should not be considered as guarantees or projections of your actual earnings or profits. Talk Fusion does NOT guarantee any level of income or earnings to any Associate; any representation or guarantee of earnings would be misleading. The purchase of a Talk Fusion Product Package is completely optional and is not required for an Associate to participate in the Talk Fusion Instant Pay Compensation Plan.