Trévo Adds To List of New Car Qualifiers
December 10, 2014
By Nicole Dunkley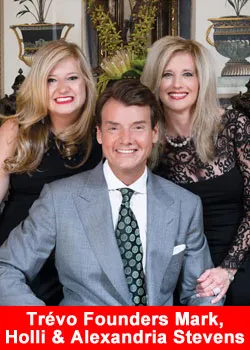 Trévo's explosive growth as a young company has been well-documented over the last few years, and the Life and Health Coaches behind that growth are reaping the benefits of their hard work.
Tonbara Inoma Batubo, Brou Epse Yapo Chia Ann Marie, and Amani Blaise Kouame have been gaining momentum since each of them joined the company in 2013. Just one year later, that momentum has resulted in sales worthy of a new car!
Tonbara Inoma Batubo, from Port Harcourt, Nigeria, joined Trévo in October 2013, and in the 13 months since has already earned an Emerald Elite Executive rank, and qualified for a new car.
Meanwhile, Amani Blaise Kouame and and Brou Epse Yapo Chia Ann Marie, both from Abidjan, Côte d'Ivoire, joined Trévo just over a year ago, and each has already earned an Emerald Elite Executive rank and qualified for a new car, as well.
"We implemented our Car Bonus Program with the purpose of rewarding the Life and Health Coaches that have gone above and beyond with their Trévo business," CEO Mark Stevens said. "These three individuals have shown an extraordinary commitment to expanding their personal business and the Trévo brand, and we are so pleased to reward them for those efforts."
Unlike other MLM company's car programs, Trévo's Car Bonus Program is uniquely designed for Life and Health Coaches in all countries, regardless of outside circumstances or financial history. Since the company began in 2010, Trévo has placed a great deal of emphasis on rewarding its members for their hard work, and this program provides all our Life and Health Coaches the same opportunity to drive around in style!
ABOUT TRÉVO
Trévo's Founders are Mark and Holli Stevens who have a proven track record of over 16 years as owners of a successful network marketing company. Mark and Holli have also been on the "other side of the table" as independent representatives, building organizations with tens of thousands of members. This dynamic duo also possess nearly four decades of combined business ownership expertise.
Trévo's proprietary blend of over 174 premium nutraceuticals, including maqui and acai berries, mangosteen, amalaki fruit, gotu kola, ashwagandha and a cornucopia of other fabulous nutraceuticals. In fact, Trévo has developed the only nutritional supplement in the world to combine and harness the power of such a remarkable array of vitamins, minerals, "supergreens," antioxidant-packed fruits and vegetables, coral calcium, and herbs from around the globe.
Based in Oklahoma, Trévo LLC is powered by a global network of many thousands of energetic and excited Life and Health Coaches.