ViSalus Kicks Off 2015 New Year's Health Resolution With World's Largest Simultaneous Group Workout On January 3
December 23, 2014
By Tina Williams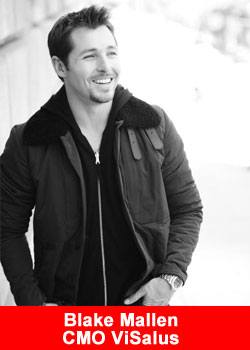 ViSalus is jumpstarting New Year's health and fitness resolutions in record-setting fashion with the World's Largest Simultaneous Group Workout. The headline-making event will take place January 3, 2015 at 12 p.m. in thousands of locations across 11 countries worldwide.
ViSalus, recognized in 2012 for the World's Largest Simultaneous Flash Mob with celebrity Alfonso Ribeiro, is determined to break another world record with this historic event that anyone can be a part of by simply showing up.
This event also includes a strong charity component. For every person who participates in the Jan. 3rd event, ViSalus will donate 30 kids meals through their PROJECT 10™ Kids program.
"We're inviting everyone to join us in making history while kick starting their health and fitness resolutions," said Blake Mallen, Vi Co-Founder and Chief Sales & Marketing Officer. "What is especially inspiring is how through PROJECT 10 Kids we will continue to help children on their road to better nutrition. We're encouraging everybody—no matter their goal or fitness level—to join a Challenge group that day and be part of a fun social experience that launches their year in an extraordinary way."
Challenge Groups offer an array of fun, fitness activities to show how moving toward health and fitness goals can be accomplished in many forms. Participants will walk, run, hike, climb stairs, and even do yoga to show their dedication to reaching their 2015 goals while attempting to be an official record breaker. Already there are Challenge Groups forming every day—from Hawaii to Maine, Alaska to Florida, and internationally including Canada, United Kingdom, Ireland, Netherlands, Germany, Sweden, Spain and Finland.
There are two ways to participate: hosting or joining an event. Individuals can find a Challenge Group event online in their area, and simply show up to the scheduled workout. Or, they can host their own event. Either option allows people to be a part of making history.
Help ViSalus break the world record and raise nutritional awareness for children by joining or hosting a Challenge Group at worldslargestgroupworkout.com.
About ViSalus
ViSalus is a healthy lifestyle company committed to transforming life, health and prosperity around the world by creating meaningful connections, supporting physical transformations, and promoting entrepreneurial freedom. Through their flagship program, The Challenge, ViSalus has developed a leading platform for achieving weight-loss and fitness results.
Founded in 2005, ViSalus develops innovative weight-management products and nutritional supplements that it markets and sells direct-to-consumers through an international sales force of independent Promoters. ViSalus offers its products in North America under the ViSalus® brand and in Europe under the Vi™ brand. ViSalus is headquartered in Troy, Michigan, with offices in Los Angeles and throughout Europe. For more information about ViSalus, visit Vi.com and follow the Vi-Community on Facebook (Facebook.com/Vi) and Twitter (@ViSalus).