All-New Talk Fusion Launches With New Products And Site Designs
January 15, 2015
By Nicole Dunkley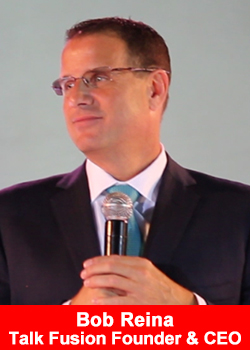 On January 14, 2015, Talk Fusion Founder & CEO Bob Reina announced the highly-anticipated launch of the all-new Talk Fusion to thousands of enthusiastic Associates from around the world during a special Dream Builder Broadcast. Co-hosted by VP of Training & Development Allison Roberts, the broadcast offered highlights of the many additions, enhancements and redesigns to the Talk Fusion product and opportunity line-up. These new incentives, websites, and videos were designed to help increase the success of Talk Fusion Independent Associates and their businesses.
Both new and classic Talk Fusion video communication products were re-branded under the company's CONNECT banner. This included the world-premiere launch of a free public demo of the Video Chat Beta from the company's new, redesigned corporate site at www.TalkFusion.com. Visitors to the site are now immediately greeted by an eye-opening new product overview video.
As part of the rebranding, innovative CONNECT video products are now even easier and more intuitive for both seasoned pros and first-time users, thanks to a redesigned user interface and guided tour of the CONNECT Dashboard.
After extremely successful closed beta testing, both CONNECT Live Meetings video conferencing and VOICE community blog opened their beta versions to all of their Associates and Customers, with final release versions being completed.
Talk Fusion's Join Site also received a complete make-over, streamlining the join process and featuring a brand-new online opportunity presentation video available for new prospects 24/7.
The release of new and expanded incentives in Talk Fusion's worlds-first Instant Pay Compensation Plan Further was further confirmation that the timing to become part of the Talk Fusion Opportunity will never be better than right now. These recognition rewards included a Rolex watch, milestone diamond rings, and the expansion of the company's famous Mercedes Madness promotion to include the actual purchase of a new C-class Mercedes-Benz.
From new and enhanced video communication products to exciting recognition incentives in their industry-leading opportunity, Talk Fusion has set the pace for a highly successful 2015 with their new launch.
ABOUT TALK FUSION
A global leader in video communication products, Talk Fusion connects people around the world through cutting-edge video technology and the means to share it, empowering them to live their dreams. Talk Fusion's innovative video products are marketed person-to-person by independent Associates in more than 140 countries.
Founded in 2007 by CEO Bob Reina, Talk Fusion introduced the world's first Instant Pay Compensation Plan. Talk Fusion adheres to the highest ethical business practices and is a member of the prestigious Direct Selling Association (DSA). Reina firmly believes that "with great success comes greater responsibility."
Talk Fusion fosters a strong commitment to giving back to friends, family, communities, and animal charities across the world to produce a positive global change. Learn more at www.TalkFusion.com and "Like" Talk Fusion at www.facebook.com/TalkFusion.
Income Disclaimer:
Any earnings portrayed in any Talk Fusion marketing materials are not necessarily representative of the income, if any, that a Talk Fusion Associate can or will earn through his or her participation in the Talk Fusion Instant Pay Compensation Plan. All references to income, implied or stated, throughout the Talk Fusion Instant Pay Compensation Plan are for illustrative purposes only. These figures should not be considered as guarantees or projections of your actual earnings or profits. Talk Fusion does NOT guarantee any level of income or earnings to any Associate; any representation or guarantee of earnings would be misleading. The purchase of a Talk Fusion Product Package is completely optional and is not required for an Associate to participate in the Talk Fusion Instant Pay Compensation Plan.