Amway Buys California Energy Drink Company
January 15, 2015
By Tina Williams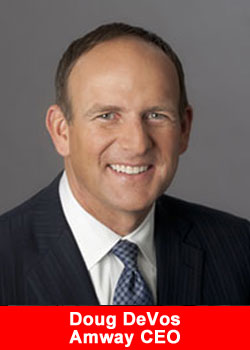 Amway has acquired XS Energy, a California-based brand of energy drinks and snacks that has been successfully marketed through parties around the U.S. and Asia.
Neither the price or terms of the agreement were disclosed by the Ada-based direct-selling giant in announcing the deal on Wednesday, Jan. 14.
The acquisition of the brand is being described as a strategic move for Amway to leverage XS' approach of connecting with young entrepreneurs.
Amway, which reported sales of $11.8 billion in 2013, makes Nutrilite vitamin supplements, Artistry cosmetics and eSpring water treatment systems that are sold through 3 million distributors around the world.
The XS Energy brand has been sold as an Amway product since 2003. It's now distributed in 38 countries, generating annual sales of $150 million. Available in a range of flavors, XS Energy is described by its makers as a sugar-free energy drink loaded with B-vitamins.
The brand's YouTube videos shows co-founder David Vanderveen and others on stages at rave-inspired gatherings smirking for a camera and crowdsurfing like rock stars.
The parties are "lifestyle branding" which show that work and play can blend together.
Vanderveen will join Amway as vice president and general manager for the XS brand to provide his expertise about connecting with the under-35 crowd.
Before launching XS Energy in Southern California's Laguna Beach, Vanderveen got his start as an Amway distributor 20 years ago. He credits the experience with giving him the confidence to develop his own product.
"I'm humbled to be partnering with Amway on the future of XS, and couldn't be happier about the opportunities we'll create for young entrepreneurs," Vanderveen said in a statement.
What intrigues Amway leadership is that XS' growing customer base are Millennials, the same generation that is the most positive about entrepreneurship, according to the company's research.
"Bringing Amway and XS together will strengthen our efforts in the years ahead and create more opportunities for aspiring business people," CEO Steve Van Andel said in a statement.
In the past decade, Amway has found success with its events and lifestyle branding in key growth markets like Japan and North America, where half of the business owners registered in the past year are younger than 35.
Amway has always marketed its products through social gatherings hosted by distributors, but XS Energy takes that approach up a few notches.
The company says it has plans to infuse the rest of its portfolio with the energy, authenticity and customer experience that have made XS so successful, while maintaining its traditional focus on entrepreneurship.
This acquisition gives Amway a stake in the rapidly growing $27.5 billion energy drink segment — which is expected to grow annually by 13 percent until 2018, according to Euromonitor and Research and Markets.
Reported by Shandra Martinez @ mlive.com