Carl And Kathy LaMarr Are Isagenix' Newest Millionaires
January 7, 2015
By Tina Williams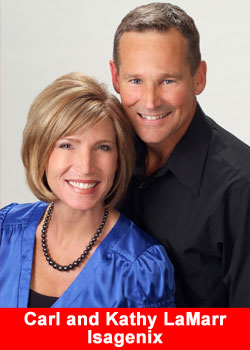 "You can't get stuck on something that's beyond your control," says Carl. "You just move on and keep going."
That's the continuous belief and vision of Utah-based couple Carl and Kathy. Between achieving their degrees, and owning and running their own restaurant franchises, to taking the plunge to run their Isagenix business, these two are avid entrepreneurs.
"Part of our goal in life was to get to the point where I could quit my job, move closer to our four kids, and also renovate a house," describes 53-year-old Carl. "We've finally done that and it's been a fantastic journey."
Moving the Motivation
The 4-Star Golden Circle couple had owned a few restaurant franchises before being introduced to Isagenix in 2004. Their good friend Lenny introduced them to Isagenix.
"Lenny knew we were into health and fitness," shares 52-year-old Kathy. "We started on the 9-Day Deep Cleansing and Fat Burning System and had fabulous results."
Lenny began encouraging the couple to join the business side of Isagenix. But Carl was reluctant after pouring thousands of dollars into the two franchises they had purchased.
"I was taken aback when he told me I could make more money with Isagenix than the other businesses," claims Carl. "So Lenny takes to me Phoenix to meet Kathy Coover and the top leaders. After that, I immersed myself in the trainings. The more I learned, the more I fell in love with the business and network marketing."
Carl and Kathy were hooked on the vision, the energy, and the products.
Investing in People
"Our advice would be to use the excitement and momentum you have when you first get in and fall in love with Isagenix to propel you forward," shares Carl. "Don't hold back—just get right in there and start talking to people."
Kathy is personally passionate about investing in their team to build every side of their business. They want to pay it forward like their leaders did for them.
"We now invest in our Isagenix team members by sponsoring events, and nurturing and helping them get to Isagenix Universities and the events because we know they are life changing and will propel their business like it did ours," says Kathy.
Recently, the couple pursued their dream of building a full-time Isagenix business. They're now able to live and have more time freedom thanks to Isagenix.
"One thing we say is never let life get in the way of your Isagenix business. Hang in there and be persistent," says Carl.
Earning levels for Isagenix Independent Associates depend on time and commitment and may vary. For more information visit IsagenixEarnings.com.