Herbalife Hits new 52 Week Low
January 7, 2015
By Tina Williams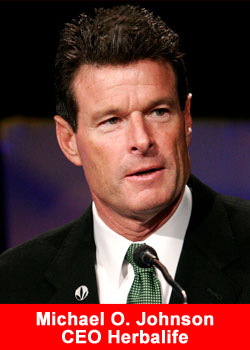 Herbalife (NYSE:HLF)'s share price reached a new 52-week low during mid-day trading on Monday , Analyst Ratings News reports. The stock traded as low as $35.10 and last traded at $35.12, with a volume of 908,464 shares trading hands. The stock had previously closed at $37.58.
HLF has been the subject of a number of recent research reports. Analysts at Buckingham Research downgraded shares of Herbalife from a "buy" rating to a "neutral" rating in a research note on Monday. Separately, analysts at Barclays cut their price target on shares of Herbalife from $80.00 to $74.00 in a research note on Friday, November 21st. They now have an "overweight" rating on the stock. Finally, analysts at BTIG Research initiated coverage on shares of Herbalife in a research note on Wednesday, November 19th.
They set a "buy" rating and a $55.00 price target on the stock. One equities research analyst has rated the stock with a sell rating, four have assigned a hold rating and four have assigned a buy rating to the company. Herbalife has an average rating of "Hold" and an average price target of $64.30.
The stock's 50-day moving average is $39.7 and its 200-day moving average is $49.23. The company has a market cap of $3.039 billion and a P/E ratio of 10.97.
Herbalife (NYSE:HLF) last announced its earnings results on Friday, November 7th. The company reported $1.45 earnings per share (EPS) for the quarter, missing the consensus estimate of $1.51 by $0.06. The company had revenue of $1.26 billion for the quarter, compared to the consensus estimate of $1.32 billion. During the same quarter in the previous year, the company posted $1.41 earnings per share. The company's revenue for the quarter was up 3.5% on a year-over-year basis. On average, analysts predict that Herbalife will post $5.84 earnings per share for the current fiscal year.
Herbalife Ltd. is a global nutrition company. The Company sells weight management, healthy meals and snacks, sports and fitness, energy and targeted nutritional products as well as personal care products.