Industry Leader, Randy Schroeder, Joins ForeverGreen
January 8, 2015
By Nicole Dunkley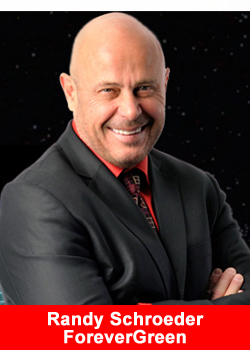 ForeverGreen Worldwide Corporation, a leading direct marketing company and provider of health-centered products, announced that Randy Schroeder, a global industry leader, has joined its membership base.
During his 24 years' industry experience, Randy has become among the most successful and highly-regarded figures in the direct selling industry. Through his successes both domestically and internationally, Randy has generated a commission income of more than $1M annually for the past 20 consecutive years. Additionally, Randy has created a strong following by disseminating his deep passion and keen knowledge for the industry through his personal growth and leadership mentoring efforts.
Randy expressed his excitement at becoming a member of ForeverGreen – what he is referring to as the "next chapter" in his career – by explaining that he feels ForeverGreen possesses the basic elements necessary to be successful in this industry. He believes ForeverGreen, with the FGXpress model, has products that matter to people, an extraordinary management team and the right timing, direction, speed and destination, as well as a great compensation plan.
Randy believes PowerStrips™ attract people to the direct selling industry that otherwise would not enter it, made possible by the product's status as a listed medical device with the U.S. FDA. Randy also said he is very excited about the company's latest product, BeautyStrips™, which features the anti-aging ingredient cycloastragenol suspended in liquid via an exclusive patent-pending process and is delivered in a skincare solution that creates dramatic, noticeable results.
In addition to the product and business opportunity ForeverGreen offers, Randy said ForeverGreen founder and CEO, Ron Williams, was a deciding factor in his choosing to find a new home at ForeverGreen. He stated, "Ron is the most passionate and charismatic leader I have met. He is impassioned, in love with this business and in love with life."
"This is my chance to put an exclamation point on my career. The knowledge and experience I have ties perfectly with ForeverGreen in time and place," Randy said.
About ForeverGreen
ForeverGreen Worldwide Corporation develops, manufactures and distributes an expansive line of all natural whole foods and products to North America, Australia, Europe, Asia and South America, including their new global offerings, PowerStrips, SolarStrips and BeautyStrips. They also offer Azul and FrequenSea, whole-food beverages with industry exclusive marine phytoplankton, the Versativa line of hemp-based whole-food products, immune support and weight management products, Pulse-8 powdered L-arginine formula, TRUessence Essential Oils and Apothecary, 24Karat Chocolate and an entire catalog of meals, snacks, household cleaners and personal care products.