Industry Leaders Return To Vemma
January 27, 2015
By Tina Williams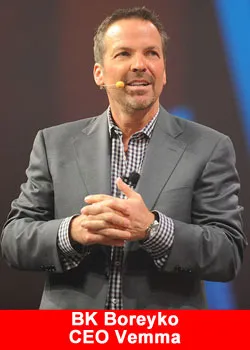 It says something about a company when former distributers return. That's the case with former Vemma Affiliates and top network marketing professionals Tyler and Mimi Ford, who proudly announced recently that they have teamed back up with Vemma after a nearly four-year absence.
"Vemma, the product, is an awesome product and the foundation for optimal health and peak performance. It was a tough decision to leave, but an easy decision to come home. There's a lot to Vemma that other companies can't duplicate; its leadership, its innovation, but most of all, its culture," say Mimi and Tyler.
The Fords have always been BIG believers in liquid supplementation. Now, they are looking forward to reaping the nutritional benefits of the product, while creating a solid, home-based business.
Not only does Vemma have a one-of-a-kind liquid nutritional supplement, but Mimi and Tyler are excited about Verve® energy drinks, Bode ® and the new Bode Pro™ geared towards weight management, which was a big attraction for the Ford's team back up with Vemma.
The move back to Vemma is perfect timing for Tyler and Mimi because Vemma is launching and shipping the new Bode Build™ this week, which is a delicious, ready-to-drink meal replacement shake with 25 grams of protein. Tyler had the opportunity of tasting it prior to its official launch and says, "Bode Build is beyond amazing and so convenient."
The other things the Fords love about Vemma is the Bode Program takes the guess work out of weight loss and fitness. TV Celebrity Transformation Specialists and Vemma Bode Spokespeople Chris and Heidi Powell are right there with you as your own personal trainers every step of the way thanks to the Bode mobile app.
"This app gives you the tools to lose weight, eat healthy, and live a healthy lifestyle. You even get a tip of the day right from Chris and Heidi Powell to keep you motivated and on task to meet your goals," says Tyler.
Tyler and Mimi Ford are excited, as Vemma Affiliates, to positively impact people's health and finances while Inspiring People to Move! ™
About Vemma
Founded in 2004 by BK Boreyko and his two sisters, Karen and Lauren, Vemma Nutrition Company has become known as one of the premier industry leaders specializing in premium liquid nutrition.
Every month, thousands of new customers experience the positive difference of the clinically studied Vemma Formula. The Vemma brands include the clinically studied Verve® healthy energy drink and Vemma Bode®, a transformational weight loss line. Vemma is headquartered in Tempe, Arizona, and distributes its products in 51 countries through global affiliate marketing. For more information, please visit Vemma.com.