Mary Kay Celebrates Sales Growth And Record Setting 50 Years
January 30, 2015
By Tina Williams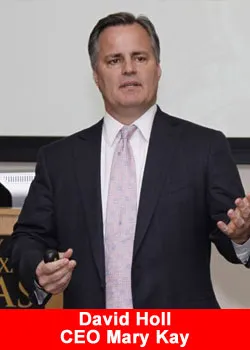 cosmeticdesign.com reports:
The direct sales beauty brand recognizes and trains its top consultants at an annual event, and this year the company has business gains to celebrate as well. Mary Kay brands itself as a venture that benefits women in and beyond its ranks. Beyond tallying sales and educating consultants, the company has environmental initiatives, recycling strategies, uses its foundation to connect with shelters to end domestic violence and more.
Aging gracefully In 2013 the company celebrated 50 years in business. Among the milestones feted by those gathered in Dallas, Texas, for the event were the over 800 Mary Kay patents—issued and pending—covering products, technologies and designs. "Our 50th anniversary has been a record­setting year for our company," said David Holl, president and chief executive officer said in a press release describing the occasion. "Women of all backgrounds and ages continue to turn to Mary Kay for the products they love and trust as well as the unparalleled opportunity."
Well begun Mary Kay Ash founded the direct­sales beauty brand in 1963. And her son Richard Rogers continues to be involved with the brand, acting now as Executive Chairman. To date Mary Kay (headquarters in Addison, Texas) comprises over 3 million independent beauty consultants, marketing more than 200 products internationally to consumers in 35 countries.
The brand's main merchandise consists of skin care, makeup and fragrance products. And through effective sales of those items and business savvy: "more than 600 women worldwide have become Independent National Sales Directors, the highest status within the independent sales force," according to the company site.
Professional leadership Going on this week in Nashville, Tennessee, the company's leadership conference is an "annual four­ day event includes advanced leadership education, riveting recognition and fashionable entertainment …[as well as] a variety of business development classes," explains the May Kay event's site.
Sales Growth At the conference this year, Mary Kay announced double digit growth in product sales globally. That, "over a record­breaking year in 2013 when the company celebrated 50 years in business," stated the company's media release about the leadership event. Mary Kay consultants are a boon to the local economy where the event is held each year too.
We've grown to love Nashville and are thrilled to be back for our annual Leadership Conference this year, said Laura Beitler, vice president of recognition and events for Mary Kay. The local community makes our Independent Beauty Consultants feel welcome and right at home. As thousands of independent sales force members from across the nation paint the town pink for a week, we're happy to infuse millions of dollars into the Nashville economy.
This article was originally reported by cosmeticdesign.com – To see the original article, please visit their website.