Matt Lehr, One Time NFL Pro, Joins Nerium International
January 16, 2015
By Nicole Dunkley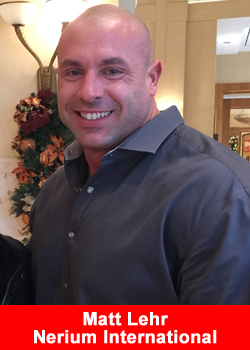 In 2001, fresh from the gridiron at Virginia Tech, Matt Lehr was drafted to the Dallas Cowboys. His talents on the football field, as a guard, center, and special teams player, would earn him 51 starts with five teams over the course of eight years and 98 games.
During his time with the NFL, Lehr made his home in Atlanta, Dallas, New Orleans and Tampa Bay, but today he's back in Dallas where his professional football career began, and he's pumping up an already stellar network marketing career by joining the Nerium International team.
Five years ago, Lehr jumped into network marketing with a health and wellness company—something he never expected to do. Yet, he grew one of the company's top producing teams and accumulated lifetime earnings of nearly seven figures during his time there. Eventually, Lehr says, "I wanted to press a re-start button." And that meant moving on.
At 6' 3" and nearly 300 pounds, it was logical when Lehr picked up the sport of bodybuilding. He has regularly trained with elite coaches from the International Federation of Bodybuilding and Fitness. However, his decision to step up his network marketing career by creating a Brand Partner team with Nerium International was not such an obvious choice at first glance. To Lehr, it's incredibly logical.
"You're not going to look at me and think I'm in skin care. More likely you're going to say, 'You've got to be kidding me?' But we all have to take care of our bodies, whether it's internally or externally. We always want to look young or as young as possible and being involved in the health and fitness industry and with the bodybuilding culture, I want to look as young as possible for as long as possible," Lehr says.
Looking better on the outside, Lehr says, builds the self-confidence people need to act on the things that are important to them. Believing in yourself makes all the difference and no matter your goals, a positive mindset can have tremendous impact on a life. He knows from experience.
Through football, Lehr developed a "never quit attitude" and navigated a constant minefield of naysayers telling him he'd never play college ball, he'd never make it to the pros let alone last for eight years. "It's all in your mindset of just not giving up," he says. And, it helps to have a great coach.
"Good coaches coach groups. Great coaches coach individuals. That's how I look at network marketing. You've got to coach individuals. You have to inspire individuals because everyone's different," Lehr says. Like in football, hard-nosed coaching may inspire some, but it breaks others down. The nuances of coaching people to be their very best is something Lehr brings directly from the NFL and applies every day to his network marketing business.
To be the best at anything, Lehr says, "You've got to have the knowledge that there's always someone who is bigger or faster or smarter than you are. There are always going to be new styles, new trainings, new support systems that you can use, you just have to follow the system. It's like the playbook in the NFL. In order to succeed you have to teach others, you have to teach down lines. It's not just about bringing people on board. You need to be a servant leader. You need to develop leaders with the right training, right mentorship, and right personal development."
It doesn't hurt to have a little chip on your shoulder when it comes to network marketing either. Lehr says that "little chip" is what he's using to "prove to myself and to everyone around me that I'm a pro at this. I've created some great relationships with some people who are on board with me and we are going to have fun!" Lehr is looking for more would-be leaders to join him in the skincare game.
Contact Info for Matt Lehr is a follows:
Email: [email protected] or [email protected]
Facebook: mattlehr68
Instagram: matt_lehr
Nerium International, LLC, based in Addison, Texas, launched in the U.S. in 2011 breaking multiple industry growth records by marketing scientifically validated skincare products that generate age-defying results. Expert relationship marketers Mark Smith and Tammy Smith have been a powerful recruiting team since Nerium's inception. Decades of direct selling savvy in teambuilding and sales combined with Nerium's break-through patented skincare formulations and systematic business growth have allowed Mark and Tammy to become the #1 income earners in Nerium International. The Smith's agree that what attracts incredible people to Nerium is the fact that the company focuses on personal development, living a life of contribution and building a culture with class.