Top Industry Leader Dr. Malikah Murphy Joins Foru International
January 1, 2015
By Tina Williams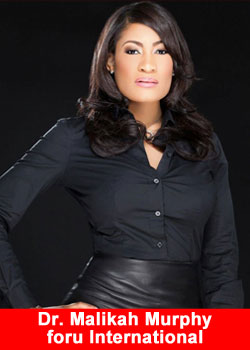 foru International (foru), the leader of personalized health, beauty and wellness products and subsidiary of foru Holdings, Inc. (OTC: FORU), is pleased to announce that Dr. Malikah Murphy has joined their national network of Brand Partners.
Malikah has generated tens of millions of dollars, rising to the highest ranks of a company that was more than 70,000 distributors strong, said Sharon Tahaney, President, foru International. We are thrilled to bring her success to the foru team.
Malikah was born and raised in Bronx, NY and moved to Delaware to raise her family in 2005. When her son was diagnosed with sickle cell disease, she left her daytime job to help care for him. During the recession in 2007, Malikah turned to network marketing as a means of survival for her family and has since had incredible business achievements such as elevating herself to the position of a top level marketer.
I am excited to partner with foru because it is the first product of its kind and I am excited to be at the forefront of a product that is actually going to make history, said Dr. Malikah Murphy. Truly customized nutrition and skincare was unheard of until now. I am a businesswoman and I know a great thing when I see it.
In addition to her incredible business achievements, Malikah has been able to channel her unparalleled drive into philanthropic endeavors. She formed a non-profit organization called Timmy's Heart for children and families living with sickle cell disease. In addition, she earned a doctorate in humane letters in philosophy this year; all against a background of living through family health issues, domestic violence and divorce.
Dr. Murphy is a living example of strength, character and the ability to overcome adversity, added Ms. Tahaney. Malikah is a true role model. Her success is a testament to her strength of character and tenacity.
About foru International:
Founded in 2012, foru International is at the forefront of personal genetics and wellness. By using a proprietary DNA assessment as a basis for personalizing health, beauty and wellness products, foru International's mission is to provide people with longer, healthier lives. The first company to offer wellness and beauty products personalized based on an individual's personal genetics, foru's products are exclusively available through Independent Brand Partners.
foru International is a subsidiary of foru Holdings, Inc. (OTC: FORU), a publicly traded company whose mission is to provide greater access to products and services that uniquely enhance the well-being of consumers and give people new opportunities to contribute to and protect the world around them.