Trévo Congratulates December Rank Advancers
January 18, 2015
By Nicole Dunkley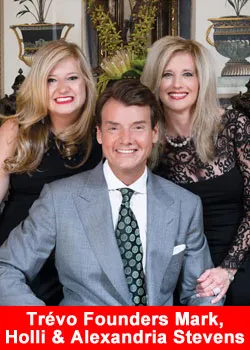 Trévo is excited to announce all of their Life and Health Coaches who advanced in rank in December.
These individuals ended their year on quite the high note, and further proved that Trévo's unique compensation plan, 8 Ways to Make Money, is providing a tremendous opportunity for success and advancement.
A total of 178 Trévo Life and Health Coaches improved upon their personal rank to close out 2014, including three individuals (Gayle Barrett, Brou Epse Yapo Chia Anne Marie, and Egbiremhon Moses) who advanced to Blue Diamond Executive status, and three others (Elaine Huff, Caroline Meecham, and Ndri Emilienne Zouzou) who earned Blue Diamond Elite Executive status.
In addition to the long list of Life and Health Coaches who advanced in rank, four others qualified for Trévo's Car Bonus Program in December. Samuel Adair, Rikki Crittendon, Sami Morgan and Robert Tarnowski will be driving in style after achieving amazing success in 2014.
Trévo is so proud of these individuals and the work they have put into building the Trévo brand. They have truly gone all out, all in, and all the way for their company.
A complete list of January rank advancers can be found here.
ABOUT TRÉVO
Trévo's Founders are Mark and Holli Stevens who have a proven track record of over 16 years as owners of a successful network marketing company.
Mark and Holli have also been on the "other side of the table" as independent representatives, building organizations with tens of thousands of members. This dynamic duo also possess nearly four decades of combined business ownership expertise.
Trévo's proprietary blend of over 174 premium nutraceuticals, including maqui and acai berries, mangosteen, amalaki fruit, gotu kola, ashwagandha and a cornucopia of other fabulous nutraceuticals.
In fact, Trévo has developed the only nutritional supplement in the world to combine and harness the power of such a remarkable array of vitamins, minerals, "supergreens," antioxidant-packed fruits and vegetables, coral calcium, and herbs from around the globe.
Based in Oklahoma, Trévo LLC is powered by a global network of many thousands of energetic and excited Life and Health Coaches.