Trina Mullins Finds Home & Success With Trévo
January 14, 2015
By Nicole Dunkley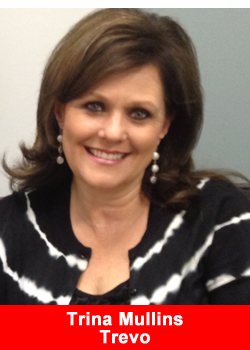 In 2010, Trina Mullins was working in an office, answering to other people, and never feeling like she had enough time to see her five children. The "corporate rat race", as she puts it, was weighing heavily on her as she found herself constantly stressed out and worried about her family's financial future. She also faced daily health issues, including a severe case of asthma that she'd suffered from her whole life.
"I'd just lost hope of really living life to its fullest," Mullins says. "But I always knew in my heart there had to be a better way, something more out there."
When Trina was first introduced to Trévo that year, she saw the nutritional supplement as a way for her to take back control of her health. But she had no idea that it would be the "better way" she daydreamed about – the thing that allowed her to break free from the corporate world and reach levels of success she never imagined.
In the four years since, Trina has gone from living paycheck to paycheck to earning a top executive income and driving a luxury car. She makes her own schedule, which allows her to spend more time with her kids. She enjoys a level of personal wellness she had never experienced before, and financial freedom that she never thought possible.
Not a day goes by that Mullins doesn't give thanks for her good friends, and Trévo founders, Mark and Holli Stevens, for introducing her to the product and opportunity that opened the door to her extraordinary lifestyle.
For 16 years I had looked for a company to call home," Mullins says. "Thanks to a dynamic duo of Mark and Holli, I'm home. I'm so proud to be one of the first members of Trévo, and to be a part of their global mission to make a difference in this world through health and prosperity."
Upon discovering Trévo's power of wellness, Trina started selling the product locally in the United States, but she soon found that there was an enormous opportunity waiting for her if she was willing to put in the effort to sell internationally. Now, Trina's team operates in Uganda, South Africa, Rwanda, Kenya, Tanzania, Côte d'Ivoire and Canada.
"My main focus has always been to build locally then spread to the international markets," Mullins says. "Building locally automatically opens the door to global connections. In our business it's all about people and building relationships. You never know where that next person or referral will lead you."
In her time in direct sales, Trina has come across representatives from hundreds of similar companies, and there is one key variable that she says separates Trévo from the rest: Trévo puts people first.
"Trévo has always desired to help people," says Mullins. "The focus has always been on pinpointing the individuals' needs and desires, and offering a proven solution."
Since its start in 2010, Trévo has experienced incredible success and is showing no signs of slowing down. In a recent poll of the world's top MLM companies, Trévo checked in at #21 out of over 600, further proof of its explosive growth. Mullins says it is easy to see why Trévo has so quickly made a name for itself in the industry.
"We have the right leadership, a unique one-of-a-kind product, and a proven system in place," Mullins says. "I would encourage everyone to experience the difference first-hand with Trévo."
ABOUT TRÉVO
Trévo's Founders are Mark and Holli Stevens who have a proven track record of over 16 years as owners of a successful network marketing company. Mark and Holli have also been on the "other side of the table" as independent representatives, building organizations with tens of thousands of members. This dynamic duo also possess nearly four decades of combined business ownership expertise.
Trévo's proprietary blend of over 174 premium nutraceuticals, including maqui and acai berries, mangosteen, amalaki fruit, gotu kola, ashwagandha and a cornucopia of other fabulous nutraceuticals. In fact, Trévo has developed the only nutritional supplement in the world to combine and harness the power of such a remarkable array of vitamins, minerals, "supergreens," antioxidant-packed fruits and vegetables, coral calcium, and herbs from around the globe.
Based in Oklahoma, Trévo LLC is powered by a global network of many thousands of energetic and excited Life and Health Coaches.