Vemma Plans To Reignite Broken New Years Resolutions With Bod-e
January 29, 2015
By Tina Williams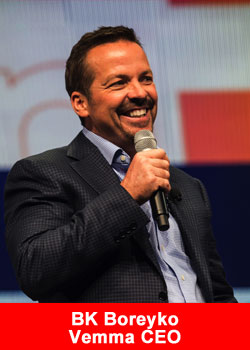 The new Bod-e Pro™ 24/7 is about to reignite broken New Year's resolutions across the U.S. thanks to a simple plan for success and consistent coaching by two of the world's best body transformation experts.
TV Celebrity Transformation Specialists and Vemma Bod-e Spokespeople Chris and Heidi Powell teamed up with global nutrition giant, Vemma Nutrition Company, to create a fitness plan that's not only easy to follow, but also enjoyable. Their request? Just commit to 24 days of following a healthy nutrition plan incorporating Vemma Bod-e Pro products and moderate exercise, and we will help you lose up to 7 pounds!* Watch as Chris and Heidi explain how the Bod-e Pro 24/7 program works in this overview video.
"This plan is simple and gives you a fresh and quick jump-start for anyone's goals; it's totally doable," says Heidi Powell. "The new Bod-e Build and Bod-e Burn create a one-two punch for burning fat and burning lean muscle.* This is going to be a fun and inspirational journey. We can't wait to help people get started."
Chris and Heidi Powell are part of a hit weight loss show seen in over 100 countries worldwide. Chris has authored two best-selling books; "Choose to Lose: The 7-Day Carb Cycle Solution" and "Choose More, Lose More for Life," co-authored by Heidi, which feature his tips for healthy eating and fitness. They have a third book due out later this year.
Nearly half of all Americans made a resolution to lose weight January 1 and of that, only 8 percent will succeed, according to recent statistics. The New Vemma Bod-e Pro 24/7 Plan can change that, says Vemma CEO and Founder BK Boreyko.
"Twenty-four days is a timeframe most people can make a commitment to stick with. The great news is it only takes 21 days to form a new habit," says BK. "With Chris and Heidi's coaching and the Vemma Bod-e Pro 24/7, we're going to have a lot of people creating healthier habits everywhere."
Those who purchase the Bod-e Pro 24/7 Pack will be eligible to receive exclusive training from Chris and Heidi every day via text message where they will share their tips and tricks for getting the most out of the new plan and also send a reminder when it's time to order their next Vemma Bod-e Pro products.
To purchase the Bod-e Pro 24/7 Pack, please contact the Vemma Affiliate who introduced you to this product, or visit Vemma.com/BodePro.
About Vemma
Founded in 2004 by BK Boreyko and his two sisters, Karen and Lauren, Vemma Nutrition Company has become known as one of the premier industry leaders specializing in premium liquid nutrition. Every month, thousands of new customers experience the positive difference of the clinically studied Vemma Formula. The Vemma brands include the clinically studied Verve® healthy energy drink and Vemma Bod-e®, a transformational weight loss line. Vemma is headquartered in Tempe, Arizona, and distributes its products in 51 countries through global affiliate marketing. For more information, please visit Vemma.com.
* Participants in a pilot study lost an average of 9 lbs. in 21 days following the Bod-e Pro Plan, which includes a healthy diet and 30 minutes of exercise 5 days per week. Consult a physician before starting any weight loss or exercise plan.