Vince Reed – Top Internet Marketer Interview
January 31, 2015
By Team Business For Home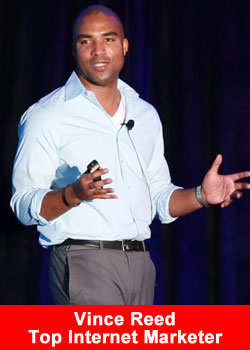 Vince Reed from Los Angeles, California, USA is the founder of My Internet Traffic System – the Home Business Training System for top earners.
After not being able to sponsor a single person into his first network marketing business for 6 months, Vince Reed created a system that allowed him to personally sponsor over 1,232 people personally. That same organization grew to over 20,000 distributors.
After this success, Vince decided to create a lead generation training company to teach other online marketers, direct sales reps and network marketers how he did it. It was important to him to prove that a business model that was built on home meetings and talking to friends and family could also work using the internet.
Knowing that most traditional network marketers are not the biggest fans of internet marketers because most seem to over complicate things, Vince was determined to keep it simple. That is why he launched www.MyInternetTraffficSystem.com (MITS) in November of 2013. MITS has generated millions of dollars in revenue and pays out hundreds of thousands of dollars in commissions every month to over 3,000 members.
Vince Reed now speaks at some of the best live events in the industry and even hosts his own events www.internettrafficlive.com where he brings in the best entrepreneurs and traffic experts on the internet today.
Ted Nuyten had the honor to interview Vince Reed
Vince, how did you start in the Internet Marketing Industry?
I stumbled onto the online world in late 2007 after getting slammed during the mortgage crisis in the USA. The day I found the internet was the day I quit the real estate industry for good. I call it the worst and the very best day of his life 🙂
The day I quit the real estate industry was the day I went on Craigslist and saw an advertisement that said I could make money on Google. That was the spark I was looking for but like most people I quickly realized this online thing is not so easy.
Making money on the Internet is for a newbie not easy?
Not for me when I started, after failing for the 1st 6 months in my first network marketing company, I quickly realized that there was something missing in my business that was the key factor in the success all of the 7 and 8 figure earners that I studied and learned from daily!
So I stopped listening to what everyone else was saying and started doing what I saw only the top 1% doing. Almost overnight everything changed the question that I focused on was:
"Why Would A Person Want To Join Me?"
Vince, I noticed you did a music video telling your story… how did that come about?
First off.. I'm a terrible rapper unless I'm rapping in the shower.vBut I'm always looking for creative ways to inspire people. One of my employees who films all of the live videos for my company is also an inspiring rapper. So one day he plays me a rap video that he made for himself. I thought it was great. Jokingly I say to him you should do a rap song me telling my story.
1 week later I get an email with a recorded song. He said you alwasy talk about speed of implementation so here you go. The song blew me away. A few months later we shoot the video and today people are telling me its the most creative story video of all times. I know that music has moved people thoughout history… so I hope this video inspires the masses!
Why are you successfull?
The answer is SKILLS. I realized that anyone can have an opportunity but very few people have skill sets that can effect and change the lives of people all over the world. The skill that I decided to master was "Targeted Traffic" Not Traffic like other GURU's… I focus on Targeted Traffic.
Vince quotes "I don't want you to get clicks, I want you to get sales.
What are the benefits for MLM professionals?
We teach entrepreneurs paid traffic methods better than anyone else, period!
MITS is for the person who wants to become a lead generation master allowing you to become more than just a person with an opportunity. But nothing makes me happier than the success of my students.
I had my first 7 figure student early last year and I have hundreds of students who earn full time incomes online.
Vince Reed Family
How do you do that?
We practice what we preach. The company spends hundreds of thousands of dollars per month implementing the traffic methods that we teach and then we deliver our results directly to our members.

Every member gets a traffic coach… we realized that watching and implementing a product that you buy and watch is not enough. That is why each member gets a coach to ensure they are implementing what they learn correctly.

Members also get 2 group coaching sessions with Vince every week. If you have a question, I feel our members should be able to speak to me. That is why members can submit ads and actually have me look at their ads live on our weekly practice webinars. I will pull up your ad and personally tell you how to optimize it better.
Vince Reed Live Event
Fanpage www.facebook.com/vincereedlive
Private traffic group on facebook www.facebook.com/groups/MyInternetTrafficSystem
Website at www.VinceReed.com