Visalus Announces Founders Equity Incentive Plan
January 29, 2015
By Tina Williams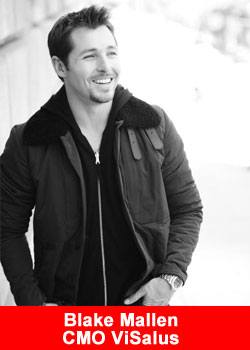 As part of the exciting new 2015 incentives and launches, ViSalus unveiled the Founders' Equity Incentive Plan – offering independent Promoters a unique earning opportunity as they achieve leadership ranks promoting The Challenge.
Since buying back controlling interest of ViSalus in late 2014, the Co-Founders have focused on creating a compelling vision for the next five years. This plan sets Vi apart with an opportunity unmatched in the industry, and is a cornerstone of the company's "2020 Vision."
"Our Compensation Plan is already lucrative, but this is an additional opportunity that is nearly impossible to find in our industry, which is to own your legacy and share in our future success. We [the Founders] are looking to create long-term partnerships with our elite leaders. We want to welcome individuals and leaders to our community who are passionate about the opportunity to build this legacy for themselves, and for their families," says Ryan Blair, Vi Co-Founder and CEO.
In December 2014, the Founders spent $143 million to buy back a significant portion of ViSalus, 6% of which they have now put back into the Founders' Equity Incentive Plan from which Promoters can earn. ViSalus Promoters now have the ownership opportunity equivalent to 6% of the entire company worldwide – 3% available to be earned in each of 2015 and 2016. The plan will be shared among four groups, based on monthly ranks achieved and maintained by Vi Promoters, and those who they help succeed.
By meeting the qualification criteria, Promoters can earn equity in this plan and potentially benefit from the future success of the company they are helping to build. When a similar plan was launched in the company's early years, the over 300 Promoters who earned in the plan ended up sharing in over $30 million.
In 2015 Vi will celebrate its 10th birthday – an achievement that fuels CEO Ryan Blair's excitement about the decades to come.
Added Blair, "The last five years laid the foundation and produced over $50 million in sales. Our last five years produced over $1.7 billion and taught us incredibly valuable lessons. With the team we have assembled today I can't wait to see what the next 5 years will bring."
International expansion has brought Vi to a total of 11 countries, with two U.S. and three European offices and more expected to launch in 2015, further growing the value for earning potential in the Founders' Equity Incentive Plan.
"Much like equity in a home or any other investment, the hope is that as we work together to create an even more valuable company, those who have earned shares in the plan will have an opportunity to benefit as well," says Blair.
For more information on this new compensation plan, go to equity.vi.com.
About ViSalus
ViSalus is a healthy lifestyle company committed to transforming life, health and prosperity around the world by creating meaningful connections, supporting physical transformations, and promoting entrepreneurial freedom. Through their flagship program, The Challenge, ViSalus has developed a leading platform for achieving weight-loss and fitness results.
Founded in 2005, ViSalus develops innovative weight-management products and nutritional supplements that it markets and sells direct-to-consumers through an international sales force of independent Promoters. ViSalus offers its products in North America under the ViSalus® brand and in Europe under the Vi™ brand. ViSalus is headquartered in Troy, Michigan, with offices in Los Angeles and throughout Europe. For more information about ViSalus, visit Vi.com and follow the Vi-Community on Facebook (Facebook.com/Vi) and Twitter (@ViSalus).