Alejandro Mateo Meroño From Spain Becomes Vi's First 4-Star Ambassador In Mainland Europe
February 26, 2015
By Tina Williams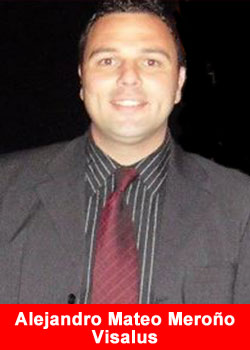 Alejandro Mateo Meroño of Spain has achieved Vi's 4-Star Ambassador rank, the first of its kind in mainland Europe. His success is hard won, though he is a natural entrepreneur.
The Road Well Traveled
Alejandro began his journey in the industry two years ago and rose to a senior executive level prior to joining Vi in December 2014. Alejandro was especially drawn to Vi's marketing of The Challenge and corresponding compensation plan.
"I told my two childhood friends, 'I found the company for us,' and almost immediately a business was born," says Alejandro.
A Big Picture Mindset
For Alejandro, the call to entrepreneurship through Vi was instantaneous. He hit the ground running from day one, established long-term goals and set benchmarks to assess progress along the way. Vi began shipping product in Spain in December. Alejandro achieved 4-Star rank by February 2015.
Lessons in Leadership
Alejandro's leadership style starts with vision and culminates with analytics.
"I think one of the characteristics of a leader is the ability to have a vision for each project," says Alejandro. "I like to analyze projects before I begin, strategize, execute, then break down the results and see how those results stack up against the big picture."
From the beginning, Alejandro has put people and products first. He understands the transformative power of Vi products and leverages interpersonal skills to drive his business and expand his network. Alejandro's 'why' stems from service.
"We're helping to change lives," says Alejandro. "And we are helping people lead healthier lives and improve physical performance. We're also providing financial stability to our Promoters. All of this is priceless."
Alejandro Mateo Meroño de España se convierte en el primer Vi Embajador 4 Estrellas en el continente Europeo
Alejandro Mateo Meroño de España ha logrado el rango de Vi Embajador 4 Estrellas, y es el primero en hacerlo en el continente Europeo. El éxito que ha tenido es bien merecido, ya que él posee un espíritu emprendedor.
El camino recorrido
Alejandro comenzó su trayectoria en esta industria hace 2 años y llego a tener un alto nivel ejecutivo antes de unirse a Vi en Diciembre del 2014. Alejandro estuvo especialmente atraído a Vi por el plan de mercadeo del Challenge y su correspondiente plan de compensación.
"Yo llamé a mis dos mejores amigos y les dije 'he encontrado una empresa para nosotros' y así fue como empezó este negocio", dice Alejandro.
El panorama
Para Alejandro, la llamada a ser un emprendedor con Vi fue instantáneo. El comenzó a ejecutar desde el primer día su plan, estableciendo metas a largo plazo y puntos de referencia para evaluar el progreso a lo largo del camino. Vi comenzó a enviar productos a España en Diciembre del 2014 y Alejandro logró el título de Embajador 4 Estrellas a comienzos de Febrero del 2015.
Lecciones de Liderazgo
El estilo de liderazgo de Alejandro comienza con una visión y culmina con mucho análisis.
"Yo creo una de las características de ser líder es la capacidad de tener una visión del proyecto en perspectiva mucho antes de que se materialice" dice Alejandro. "previamente me gusta analizar el proyecto exhaustivamente y una vez estudiado llevarlo a cabo hasta su máximo exponente"
Desde el comienzo, Alejandro ha puesto a las personas y al producto primero. El entiende el poder de transformación que tienen los productos de Vi y aprovecha sus habilidades interpersonales para conducir su negocio y expandir sus conexiones. Y la motivación de Alejandro se deriva del servicio al prójimo.
"Estamos ayudando a cambiar vidas," dice Alejandro. "Pienso que mientras miles de personas pierden peso les ayudamos también a tener una mejor salud financiera a través del plan de pago de la empresa y esto último no tiene precio."