Andi Dorfman, From Advocare And Bachelorette, Accused Of Selling-Out
February 26, 2015
By Tina Williams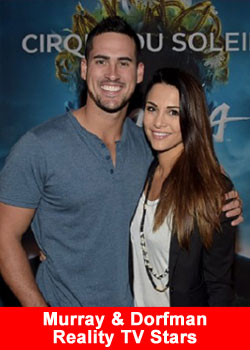 The Inquisitr reports: When Andi Dorfman was still engaged to Josh Murray, she helped promote his work as a distributor for AdvoCare, a business that sells weight loss and nutrition products through members. The former Bachelorette star, via her social media accounts, frequently touted the benefits of AdvoCare's products and encouraged people to join Josh's selling team.
Now that they're no longer together though, Andi is promoting products from another company. Early this morning, she posted a photo herself about to drink a meal replacement shake from 310Nutrition.
The fact that Andi was promoting a product similar to one sold by Josh's AdvoCare business was not lost on some people.
"I just find these posts odd. With Josh providing Advocare products and you now promoting these. Makes me sad."
One Bachelor and Bachelorette viewer had something to say about Andi going from being an Assistant District Attorney to a reality TV star who promotes products on social media.
"I appreciated how she was real in her interview, but it's disappointing how she quit her job to push products. It makes it seem like that was her real purpose behind doing the 'Bachelorette.'"
Last week, Andi Dorfman credited former Real Housewives of Atlanta star Kim Zolciak for introducing her to 310Nutrition. Several people asked Andi if 310Nutrition products were better than Josh Murray's AdvoCare products.
The comments left on Andi's corresponding Instagram post were much more critical.
"You broke up with the advocare too? What happen to that? Thought u were using those brand!…. Just saying! I started using advocare and I loved it! Because of you @andi_dorfman and Josh!You just can't trust anymore!!!!"
"Are you kidding? Advocare to 310Nutrition? What next?"
One person even claimed that it's "all about the money for [Andi]" and that she "can't be committed to anything."
Josh's AdvoCare page, which previously featured a photo of Andi, now only shows a photo of him with his dog.
On the Bachelor: Chris Tells All special last Sunday, Andi Dorfman explained what went wrong in her relationship with Josh Murray, to whom she got engaged to during her Bachelorette season finale. As previously reported by the Inquisitr, Andi admitted to host Chris Harrison that neither person supported the other. Perhaps neither person supported the other's career aspirations?
"I didn't feel supported and empowered and I don't think I gave him that support and empowerment that he needed. When you have two very passionate, very strong personalities in one house and nobody can back down and nobody is the calming force for one another… it's a lot of emotion. It's a lot of tension in one house."