ARIIX Founder, Mark Wilson, Named 2015 President Of The Direct-Selling Management Association
February 19, 2015
By Tina Williams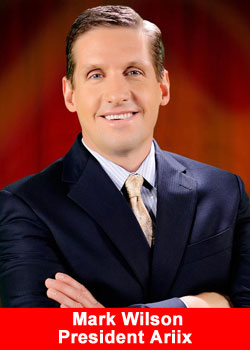 ARIIX, an international opportunity company that promotes healthy, toxic-free living, is excited to announce the appointment of their Founder and President Mark Wilson as the 2015 President of the Direct Selling Management Association (DSMA).
DSMA Utah is a networking association that focuses on operational, financial, and technological issues facing direct-selling industry companies headquartered in Utah.
For the last 10 years, the DSMA has brought together people from a wide variety of direct-selling companies united in the belief that collaboration strengthens all companies and a strong company makes for a strong sustainable industry. Members attend regular events and are afforded the opportunity to collaborate and network with leaders from other direct selling organizations. At each meeting members hear of new, unique, or innovative concepts, and are exposed to experiences and lessons learned from seasoned organizations.
"Today, more than ever, people want more independence and the ability to create a business that ignites positive change in their homes, community, and world," said Wilson. "Direct sales offers a tremendous opportunity for supporting these goals as well as encouraging entrepreneurship on a global scale. I look forward to serving the direct sales community in this role and continuing to support people's dreams of improving their lives while also improving the lives of people all around them."
About DSMA
The Direct Selling Management Association of Utah (DSMA) was organized in 2005 for the purpose of creating and maintaining collaboration among Utah-based, direct selling companies that fosters economic growth and supports the power and influence of the direct selling industry through lobbying efforts and government initiatives. The organization is built on the core values of building relationships, sharing ideas, organizing resources, and operating ethically.
About ARIIX
ARIIX is a global opportunity company using the latest research to create leading-edge health and wellness products. The company was born from the shared vision of business leaders in the health industry who wanted to create a unique company based on the Golden Rule of helping others to unleash their potential for good. ARIIX stands out with a combination of worldwide vision, outstanding industry experience and leadership, products of unrivaled quality, and the philosophy that when one person thrives, the whole community benefits. ARIIX currently operates in the United States, Canada, the Netherlands, Portugal, Greater China, Japan, Taiwan, Singapore, Australia, Russia, Kazakhstan and Mexico.