Darren Hardy, Founding Editor Of Success Magazine, To Be Keynote Speaker At MonaVie Event
February 13, 2015
By Tina Williams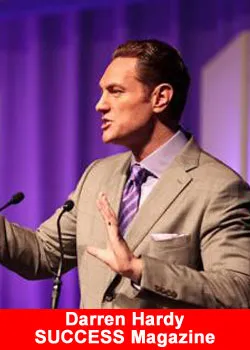 MonaVie recently announced Darren Hardy, founding editor of Success magazine, as its keynote speaker:
2015 bears an incredible future for MonaVie Europe and to kick start our year of defining history, we are thrilled to announce special guest Darren Hardy as keynote speaker for the Madrid Momentum convention taking place 21-22 March 2015 at the Madrid Arena.
This will be an incredible treat to our distributors as Darren is a highly sought-after keynote speaker, media contributor, and the New York Times best-selling author of The Compound Effect, Living Your Best Year Ever, and The Entrepreneur Rollercoaster–Surviving the Scariest and Most Thrilling Ride of Your Life!
Darren champions the message of success, hope and abundant opportunity to more than 3 million people each month through the pages of SUCCESS magazine, his blog and before live audiences of entrepreneurs across the country. Darren distills the best of the best information and strategies available, mixing in his own street-tested principles of success to mentor and empower millions of entrepreneurs globally.
The visionary force behind SUCCESS magazine as its Publisher and Founding Editor, and a business leader in the success industry for two decades, Darren has had unique and unfettered access to the most successful people on the planet, including Richard Branson, Steve Jobs, Warren Buffett, Donald Trump, Howard Schultz, Charles Schwab, Jeff Bezos and many more.
He has uncovered the secrets to their success and will now reveal them to us.