Limitless Worldwide Gears Up for Second Anniversary Celebration
February 14, 2015
By Team Business For Home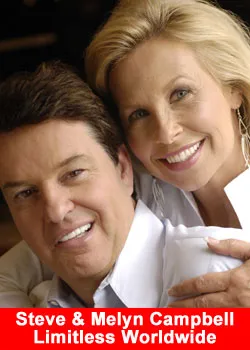 Network marketing company Limitless Worldwide has achieved some incredible goals since its launch in 2012, and the company plans to celebrate! Limitless is hosting a Second Anniversary Celebration at the company's headquarters in Salt Lake City, Utah on February 20 and 21, 2015.
Limitless is known for its innovative patent-pending TriBrid Overlay Compensation Plan and building on their reputation for innovation, co-founders Steve and Melyn Campbell, some of the most successful network marketers in the world, are excited to announce that they'll be revealing a revolutionary duplication model called Limitless Max at the Anniversary Celebration.
After 25 years in the industry, my husband Steve and I have realized that probably the most difficult part of any networking business is getting a distributor started properly, Melyn says.
While distributors can become very motivated at events, the reality is that after they return to their homes across the country, they ask, 'What do I do now? What's the next step?' Limitless Max is an ingenious, step-by-step, daily system of videos and texts designed to answer exactly that question for our distributors.
Steve adds, For distributors, so many times the fear is in the follow up. Our goal is to replace that fear with confidence by simply breaking down the day-by-day steps distributors should take into little digestible nuggets. Limitless Max will make it simple for our distributors to know exactly what they need to do next in order to be successful.
Limitless Worldwide has found great success with its line of some of the most revolutionary, scientifically validated products in the Personal Care, Anti-Aging, and Weight Loss and Nutrition categories. Its Thrive™-hGH product is an oral compound capable of increasing mean, serum (blood) human growth hormone levels by 682%.* Thrive contains the highly sought after SeroVital®-hgh compound, which is so unique it's been granted not one but ten United States Patents,** and Limitless Worldwide is one of only three companies in the world authorized to distribute the compound.

Customer favorites in the weight-loss category include SkinnyStix® — a super-delicious, highly effective, take-anywhere weight-loss* powder you simply mix in water — and GlyStrictin™, which contains a key compound shown to reduce the desire to eat and decrease not only body weight, but also lead to a significant reduction in fat mass.*
And Limitless Worldwide customers have fallen in love with the company's InnovAGE™-TH3, a skin-care formula specifically developed to address the other cause of wrinkles, glycation. InnovAGE helps inhibit surface toxin formation to help shield the skin from future glyco damage, reduce the appearance of fine lines, deep wrinkles and crow's feet you already have while it visibly lifts, tightens and firms saggy skin, and reduce the appearance of age spots.
To learn more about Limitless Worldwide, visit www.LimitlessWorldwide.com or call 1-800-429-4290. To get all the details on the Limitless Worldwide Second Anniversary Celebration and to register, visit www.LimitlessFlyIn.com. Seating is reserved, so don't wait!